Watch the video or read the transcript below!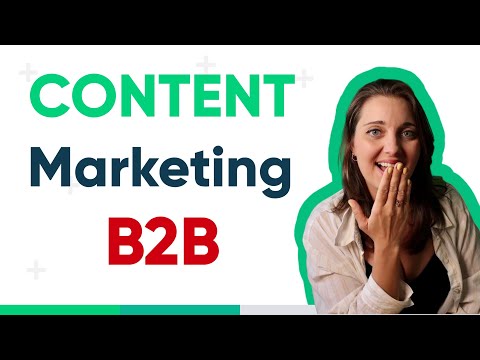 61% of respondents say that the most challenging thing is to fit the content marketing strategy to every stage of the buyer's journey. In B2B, the purchase process takes way longer than in B2C. That's why it's challenging to keep your audience interested in your content throughout the whole journey.
B2B Marketing Tips – Increasing Awareness
The first stage of the content marketing funnel is awareness. In this stage, you should focus on creating content that will reach as many people as possible to get people to know you.
SEO
The first element you should remember is SEO. In this stage, focus on content that will build your website's visibility, and keywords that your users might search for. It would be great to start with a content plan that would include your branding, narration, and keywords that you will use in the future. For keyword research, it would be good to start with a keyword gap. It means checking what your competition is visible for and you are not yet.
Guest Posting
Another content type you can focus on is guest posting. It's a perfect way to reach an audience that has yet to become familiar with your website. Remember to choose the right partner for guest posting. First, check if your target audience will visit their website. Does it offer a complementary service or product to yours, or is the target audience the same? Secondly, check if the link or the content from that website will be valuable for you. If the website is visited by users, if your answers are yes to both of these questions, then go for it.
Videos
You can also increase your brand's awareness by making videos. And remember that video is not only YouTube. You have plenty of choices like short videos which are gaining more popularity right now. This would be shorts, TikToks, reels, or stories. Just think about it. Have you recently seen any viral long videos?
Right now these are mostly short videos, shorts, or TikToks. And remember that awareness is about going viral. Another way to use video for awareness is to organize webinars. By choosing the right topic and targeting a good audience, you can also create a good MQL base.
B2B Marketing Tips – Maintain Interest
The second stage of the marketing funnel is interest. This means your audience already knows you exist. Now you need to convince them to desire your product or service and present them with the possibility of buying it.
SEO Once More
You shouldn't forget about SEO at this stage. Your audience already knows you, but they are still looking for answers online. If they remember your brand, they may choose you while browsing the SERPs.
Make sure to add trending topics to the strategy and don't forget about the brand keywords. If someone remembers your name, they will also search for your brand directly.
Work on the Content on Your Website
Secondly, work on your product or service description. If your audience has reached your website, make them aware of what you are offering by writing good service or product descriptions.
By giving them the answer to the question, of why they should buy your product or service, you are turning them into potential clients. And don't forget about internal link building and proper website structure.
Newsletter Strategy
The third content marketing strategy that you can use for the interest phase is newsletters. If you have a base of potential clients or you've done, for example, webinars, you can nurture these contacts. Make them desire your products or services with the right database segmentation. You will be able to reach the right people with quality content in the right place and time.
B2B Marketing Tips – Become Desirable
The third and last phase of the marketing funnel is desire. In this phase, you can focus, for example, on case studies. If someone is already considering working with you, you should show them what this cooperation could look like.
Show Your Expertise
In the service industry, it's quite easy to imagine. You need to demonstrate a problem, resolution, and results. But what if you are offering products, not services? Then show how the product can solve someone's problems or needs.
Answer the questions: How did your product help others? How did you choose the right product for the right person?
Get Reviews
Another thing you can do in the desire phase is to get more reviews from your clients. Reviews are not necessarily something you create, but you should encourage your customers to leave one.
How to encourage customers to leave a review? Firstly, contact them directly. Mass email links, in this case, will not work as well as personal contact. Secondly, offer them something extra for the review. It can be either a discount or an extra service. And lastly, suggest what would be most valuable for you to see in that review. Very often, clients are not leaving a review because they don't know what to write.
Summary
Summing up, creating content for the B2B industry is not the easiest thing. The main reason, in my opinion, is that it's hard to measure which type of content brought sales or leads.
The purchase process is way longer than in B2C, and even if someone sees one piece of content, they might not make a purchase right away. Instead, they will come back in a month to finalize the transaction. So it's hard to measure which type of content brought this sale in.
If you are starting with B2B content right now, don't give up if it doesn't bring immediate results. It takes time. Contact us to discuss your content strategy!