Infinite scroll
, or continuous scroll, is a way of uploading content from further search result pages. Without clicking on the next page numbers, the results will load automatically for the user to explore. Last week Google announced that
infinite scroll will be rolled out on search result pages for mobile devices in the United States
. This means the company is getting rid of the "read more" button, which was already a step towards better UX of Google's SERPs (before that, we needed to click on page numbers as in the desktop version of the search engine). Here's how the infinite scroll will work: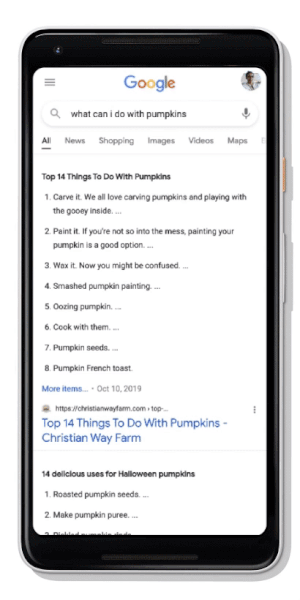 What does this change mean for Google users?
Infinite scroll on Google is a clear sign that the company follows trends initiated on the most frequently used websites. Let's admit, we all at some point ended up scrolling Facebook, Instagram, or Twitter for the past hour (or more!) without even realizing it. Infinite scroll tends to pull the users in making them lose track of time and at the same time increasing their interest with the displayed content. Just as you can see in the pumpkin pie example above - the desire to learn more and explore new options motivates readers to scroll down. With that in mind, we can expect that the new solution can make users stay (and scroll) longer on the website instead of adjusting the query to get better results.
Will the Infinite Scroll on Google affect SEO?
As it often is with SEO - we'll see. At this point, we can predict that implementing such a solution will increase CTR (click-through-rate) of pages ranked further down the SERPs. This way the organic traffic for websites placed on e.g. second page will grow. At the same time, we can expect that
On-SERP SEO
will gain importance. How a website is presented in SERPs - whether it's displayed with a graphic, structural data, or catchy meta-description/title - can now become one of the more important factors.