If you are looking for unusual ways to get new customers – try my content marketing tips!
Check out the video I recorded, or you can jump straight to it, or read the transcript below if you prefer.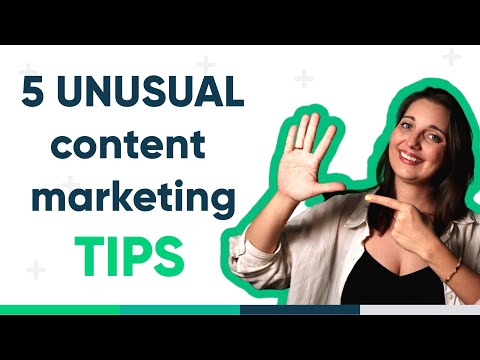 Keyword Gap Analysis
Since I'm closely involved in SEO processes, it's only fitting to start with an SEO-related topic. Search engine optimization aims to get your website higher in search engine results and make it more understandable to Google and users.
Without well-planned SEO processes, your website is unlikely to be visible on Google. If you feel like you've covered almost all topics and don't know how to move on, conducting a keyword gap analysis can help.
In a nutshell, this involves analyzing the keywords your competition ranks for that you do not. There are plenty of tools that can assist you in this process, such as Ahrefs or SEMrush. You can use a content gap tool, although this may require a paid subscription.
Another option is exporting your keyword list to Excel and analyzing your competitors' keywords to identify any gaps. The tool will also provide insights into organic competitors, which may differ from your direct business competition.
However, it's important to remember that not every keyword you find will be suitable for your business and target audience. Not all keywords will align with your offer and convert into sales or leads. Therefore, it's crucial to adjust your strategy and content marketing to your target group and offer.
Updating Content
Remember that every analysis is useless without taking further action. A keyword gap analysis should be followed by a content strategy.
You should take two simultaneous paths. The first one is updating old content. For keywords you have already used on your website but are not highly visible on Google, update and optimize the existing content. Then, promote it to improve its visibility. You shouldn't create new content for keywords you have already used on your website.
As for new keywords, create fresh blog posts or other types of content that you haven't utilized before.
Don't overthink it when generating new content ideas. Many people struggle to come up with new ideas, but tools can be extremely helpful in this regard. You can rely on tools like Ahrefs, SEMrush, or SimilarWeb to discover the types of content that are driving traffic to your competitors. This could include glossaries, industry rankings, or other content types. By exploring what works well in your industry, you can gain inspiration for your own content.
Additionally, in many industries, implementing free tools like calculators or spreadsheets can be profitable. For example, one of our clients in the catering diet industry implemented BMI calculators on their website after a competition analysis. This led to increased traffic and, when combined with conversion banners, more sales.
We have a
conversion rate calculator
on our website that helps users assess if their numbers are on the right track. Check it out!
Content Distribution
Content distribution, or rather redistribution, allows you to maximize the reach of your content. When you have a high-quality piece of content, you can use it in many ways.  Social media sharing is an obvious choice, but it's not the only option. You can summarize and republish your content on other platforms, gaining exposure and potentially acquiring backlinks for SEO purposes.
Medium and Quora are two prominent platforms to consider. Medium has almost 9 million monthly users, while Quora has approximately 52 million users per month. By repurposing your content on such platforms, you can attract new visitors to your website.
Remember to give the users value, a link to your website should only be an addition. This way, by using different pages, you can get more traffic from other sources, not only from organic reach.
Email Marketing
Email marketing serves as another form of content distribution, but this time to people who are already on your recipient list. Utilizing newsletters is an effective way to get in touch with people who are already familiar with your brand, have made a purchase, or have downloaded something from your website. Through email marketing, you can encourage them to make additional purchases or convert for the first time.
While we're on the subject of newsletters, I recommend subscribing to ours to stay up to date with news in the world of SEO and marketing!
But, how can you grow your email marketing list? This is where gated content comes into play.
Gated Content
Gated content refers to valuable content that is only accessible after leaving an email address as a "payment". This could be a report, tool, white paper, or anything else that is worth leaving an email.
To determine what kind of gated content to create, it's beneficial to conduct a competitive analysis and see what your competitors offer to their audiences. You don't necessarily have to analyze direct competitors; companies in a similar industry can also provide inspiration. However, ensure that your content is unique and valuable enough to resonate with your audience.
Summary
By implementing these five tips, you can drive more traffic to your website through written content alone. But, keep in mind that there are numerous other content formats available, such as videos, podcasts, and more.
I hope these tips prove useful to you!
Would you like to work on your content marketing strategy? Let us know!