Marketing for various industries
Many people claim that
defining an appropriate marketing strategy and its objective
is one of the most crucial elements of advertising activities. So what skills are required to devise your strategy properly? It's all about the experience, being familiar with a given industry, and having good analytical and data reading skills. Why is it so important to plan your strategy appropriately? Such an approach will allow you to define the direction of your brand development.
Implementing innovative and creative solutions will make your brand stand out from the crowd and outdo its market rivals.
Moreover, thanks to it, your business may also gain popularity online. In order to tailor a marketing strategy to a specific industry, it's often necessary to conduct thorough research and verify already implemented solutions. Adjusting your brand to current market circumstances or trends often means profound modifications in its operation and online presence.
A dynamic market requires efficient adaptation skills.
It's often necessary to modify your vision, even if it's accompanied you from the very beginning of your business activity. Tailor your activities to the target group or refine your services/product range. In such situations, you may need to
do rebranding
which involves altering your company's image, logo, or website design.
What does the process of adopting a marketing strategy for a given industry look like?
Determining a marketing objective and methods to achieve it often requires preparing a multi-stage strategy. The conducted activities should comprise both creativity and analytical thinking. It's crucial to analyze data and then express it as unique as possible.
Establishing the right marketing strategy frequently requires:
Planning an appropriate SEO process,
Creating the right image and visuals of the brand,
Determining the channel and form of communication with the target group.
When trying to devise an appropriate marketing strategy, it's essential to pay attention to both internal and external needs. [caption id="attachment_32316" align="aligncenter" width="571"]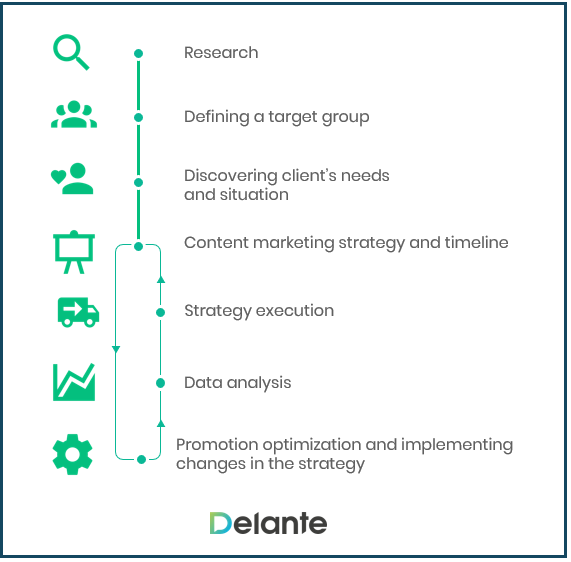 Based on: https://www.frogriot.com/blog/pl/content-marketing-strategia-dla-branzy-beauty/[/caption] While defining the objective of the marketing campaign,
it's advisable to think whether your activities will work well in the long run and under all conditions
. Determine both long-term and immediate goals. Monitoring the implementation stage will allow you to assess whether your objectives are achieved. Begin by specifying how to measure the results of your marketing activities. Nobody wants to take any further action without knowing which stages of the marketing plan have already been implemented. The goals also enable devising additional strategies that come in handy in case of sudden complications and changes in the online world. Preparing a few scenarios helps to constitute a positive brand image that can't be easily damaged by surprising online plot twists.
Defining an operational schedule
that will allow you to monitor your effectiveness and progress or focus on the desirable effects of the implemented strategy is another important issue.
Profiles of clothing, footwear, baby, and beauty industries
In many industries, developing market and branding strategies isn't a piece of cake. Every market sector necessitates different preparation and an individual approach to a selected target group. So what's important for specific industries? Let's take a closer look and analyze clothing, footwear, beauty, and baby markets!
Clothing industry
The clothing industry is an extremely difficult and competitive marketing sector.
Building a clothing store brand image begins from determining its character and objectives.
It's good to promote the assets of the offered products and qualities advocated by the store. In the clothing industry, it's crucial to make sure that a potential customer perceives the store's offer in the same way as the brand creators.
Both fashion and clothing industries rely mainly on visual communication.
Appropriately managed social media channels
are also crucial in the clothing industry. It's advisable to set up accounts on the most popular platforms like Facebook, Twitter, Instagram, or Pinterest. Social media profiles are supposed to inspire the followers, introduce them to the brand's offer,  and present outfits available in the product range. This industry requires an efficient website and shipping system. It's also worth devoting some time to create comprehensive product descriptions and pack products in an innovative and aesthetic way that shows that the store is up to date with current trends and does its best to meet the customers' expectations. [caption id="attachment_16524" align="aligncenter" width="750"]
Source:
Instagram
[/caption]
Video clips
presenting industry or brand news and showing the process of sewing clothes available on the offer are also becoming increasingly popular. This is well visible when looking at Mohito's YouTube channel with lookbooks and outlooks to their campaigns. Cooperation with influencers is also helpful in brand promotion - make sure that your company has a quality list of names at its disposal. Mobile-friendliness is another important aspect of the clothing industry.
As much as 30% of all e-commerce traffic comes from mobile devices.
[caption id="attachment_16526" align="aligncenter" width="370"]
Source:
https://searchenginewatch.com/sew/study/2332195/30-of-ecommerce-site-traffic-came-from-mobile-in-2013-study
[/caption] An efficient ordering system, mobile-friendly website design, and apps indicate that the brand is ready to enter the market full of clothing industry tycoons. Check out
how to do SEO for the clothing industry
- all the activities have been thoroughly described on our blog:
https://delante.co/clothing-industry-visibility/
.
Footwear industry
As far as marketing solutions are concerned, the footwear industry is similar to the clothing one. Here, again, social media activity and a properly developed online store are of the utmost importance.
Being visible on social media and providing updated information on special offers or product range
has a positive impact on brand recognition and the number of visits to the website. Companies operating in the footwear industry frequently base their marketing strategies on
shoe quality and brand history
. Local brands that are literally passed from generation to generation enjoy great trust and popularity.
Brand ethics matters
- there is a list of brands that use ecological materials or fabrics and manufacture their products in fair trade, cruelty-free manner.
Appropriate SEO activities can successfully improve Google's positions of websites operating in the footwear industry.
Baby industry
The baby industry is one of the most rapidly developing market fields.
In this case, appropriate social media advertising activities and the company's online store have the most significant impact on the popularity of the brand.
The seasonality of the baby industry
necessitates proper preparation for all special occasions like Christmas or Children's Day when the interest in kids' products or toys increases. Advertising your products on Instagram and complementing them with accurate descriptions will improve the reach of your store. It's also beneficial to
cooperate with brand ambassadors
that can significantly increase your brand recognition and popularity.
Parents, meaning the target group, are the real driving force of the baby industry.
They support the development of this market sector and provide valuable suggestions concerning its future possibilities. It's a good idea to monitor the requirements of the target group and fully benefit from its potential or engagement.
Beauty industry
The beauty industry is a very special market sector that requires an individual approach and personalized marketing activities. Keep in mind that it still strongly relies on a recommender system and opinions of its "father figures".
So, for example, before deciding on any aesthetic medicine procedures, company owners usually need to earn the total trust of the clients. The industry is highly competitive and requires
careful marketing solutions
. All clinics offer similar service ranges and use the same devices and cosmetics. Now, it shouldn't surprise you anymore that companies in the beauty sector strive to outdo each when it comes to following current trends. It's important to
determine an appropriate target group and a market niche
you can offer your services to. The online world which guarantees the most effective and efficient results is the most popular marketing space usually chosen by companies operating in the beauty industry. So what are the most frequently employed activities? In this case, Facebook's content targeting is an ideal solution!
Being present on social media is extremely important in the beauty industry.
Keeping the users up to date with special offers or posting entries regularly will make it easier for potential customers to get to know your product range. [caption id="attachment_32319" align="aligncenter" width="285"]
Source:
https://www.klinikaambroziak.com/en/
[/caption]
Running your own company blog
with reliable and trustworthy posts that provide readers with indispensable pieces of information is also a great solution. It's worth benefiting from all the possibilities offered by the available communication channels. Facebook is an ideal platform for publishing video clips that are likely to reach a wide range of recipients and enable sharing professional knowledge in an accessible manner. On the other hand, running a company blog enables the use of infographics which accurately illustrate the content you discuss in the posted articles. Since the content of beauty industry websites is the real king,
it's worth paying special attention to ensure that your page provides understandable and comprehensive descriptions of treatments
that help the patient to get prepared for an appointment. This quality informative function informs the client about the treatment, appropriate preparation, and expected results. [caption id="attachment_32321" align="aligncenter" width="679"]
source:
https://www.klinikaambroziak.com/en/offer/aesthetic-dermatology/fraxel-dual-laser/
[/caption]
What are the marketing challenges and how to deal with them?
Every person specializing in online marketing perfectly realizes how hard it is to conduct appropriate activities that will have a positive impact on the brand image and increase its popularity. Unfortunately, ill-suited actions can bring adverse effects and do more harm than good. Later, it translates into financial losses and a lack of desirable results.
So how to avoid making these harmful marketing mistakes?
1. Inappropriate content choice and communication methods
The website and blog
content
published by a selected brand is one of the issues that deserve special attention.
It's worth making sure that the texts you offer are quality, unique, and user-friendly.
Moreover, the website content should present reliable pieces of information and be written in a comprehensible language.
2. Excessive haste when conducting marketing activities
Regardless of the industry, you operate in, effective marketing takes some time. Well-thought-out activities will bring much better results than decisions made in a hurry.
3. Selection of an inappropriate target group
Targeting your ads at all recipients or choosing the wrong target group is one of the most common marketing mistakes.
It's worth selecting and analyzing your recipients
to be able to reach potential customers interested in your offer.
4. Inaccurate product descriptions
Does your offer include products with specific parameters? Apart from providing their thorough descriptions,
focus on selling value, and present all the benefits of buying a given good.
5. No social media presence
Nowadays, promoting a brand solely on a website isn't enough anymore. Therefore, being present and active on social media is a must.
Ensure proper management of your profiles on various platforms
, update information, and publish posts encouraging followers to revisit your profile.
6. Marketing activities performed on one's own
Incompetent actions can result in negative reception or undesirable effects, so
it's advisable to commission brand marketing activities to specialists
who devise the most appropriate strategy based on their professional experience. This guarantees the top-notch quality of service and the creation of a positive brand image.
So what's the most notorious mistake made by entrepreneurs wishing to expand their business and enter a given industry?
7. Being unfamiliar with the recipients and their expectations.
The takeaway
Selecting appropriate marketing activities tailored to a given industry requires a lot of experience and understanding of the sector the brand operates in. This is a moment when analytical skills and the ability to creatively set marketing objectives come in handy. Make sure you publish unique content adjusted to the determined target group and stay active on social media.