June 2021 starts with some reshuffles in search results as a consequence of the latest Google's core algorithm update rolled out on the 2nd of June. It's not the first time when the beginning of the month is a time of changes in algorithm, however, this time Google admits that they didn't make it on time with all changes planned for this rollout.
Already next month, we can expect another update that will complement the one from a few days ago.
We certainly could see that coming as the latest major core algorithm update took place in December 2020. Implementing 2 core algorithm updates in such a short period of time is a really rare situation. Google claims that it won't cause drastic changes in search results. I guess we'll find out soon :)
Some of our planned improvements for the June 2021 update aren't quite ready, so we're moving ahead with the parts that are, then we will follow with the rest with the July 2021 update. Most sites won't notice either of these updates, as is typical with any core updates....

— Google SearchLiaison (@searchliaison) June 2, 2021
As always when the update hits the Google search engine, some websites might be affected by it, some might win on it. One thing is sure - there's no use in jumping for joy or crying your eyes out over the loss. In such a doubled update rollout it's likely that websites that grew during the first update will experience drops during the second one - and vice versa (although the scenario is not certain). It's important to remember that a full Google core algorithm update rollout may take even 2 weeks to be fully implemented. At this point, a few days after Google rolled out the latest update, we can notice the first movement in the search results. Changes are being also noted by tools measuring SERPs "temperature":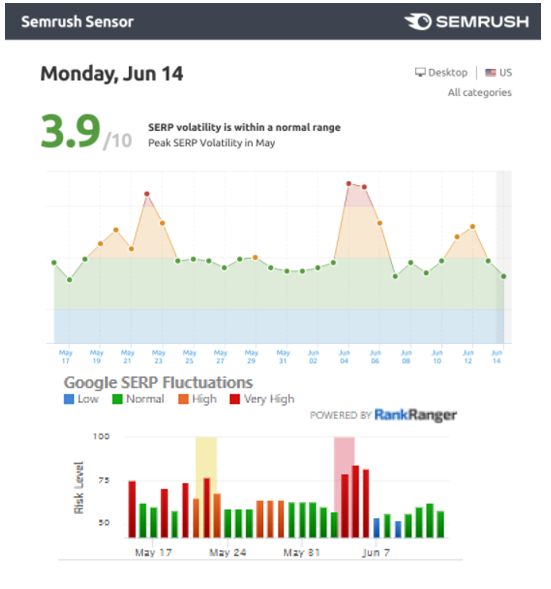 We are observing subtle fluctuations on our clients' websites, however, a Twitter rumor has it that some industries note large swings in search performance.
Is June's Google Core Algorithm Update Connected To Core Web Vitals?
No.
Core Web Vitals implementations, also known as page experience update, is a completely different update planned for the second half of June 2021.
Later today, we are releasing a broad core update, as we do several times per year. It is called the June 2021 Core Update. Our guidance about such updates is here:https://t.co/e5ZQUA3RC6

This will be followed by the July 2021 Core update. Here's more information about that… — Google SearchLiaison (@searchliaison) June 2, 2021