Website Footer. What Should It Include and How Does It Affect SEO?
What is a website footer and what should it include? Do its components affect the SEO of your page? In today's entry, you'll find answers to the above-mentioned questions. Keep reading!
Table of contents:
What is a website footer?
When browsing various websites (and developing your own one), you probably pay attention to the design, layout, menu navigation, or usability. Sometimes, you encounter pages that seem less useful or more complex to navigate than others, but you actually aren't able to determine what's the reason for that.
A footer is one of the elements that we usually don't pay a lot of attention to but it actually frequently helps us navigate the site. A footer is located at the very bottom of the website. Its content is usually determined by the nature of a given page.
So, what elements should your website footer contain, and how to design it? We'll try to answer your questions and provide you with exemplary ways of implementing a website footer.

What to include in a website footer?
1. Contact details
Perhaps your potential customer decides to contact your company after scrolling the whole page. You can make the task easier by placing your contact details in the footer – it can be your email address, phone number or even a contact form. Thanks to it, users won't need to go back to the top of your site to find the contact tab.
If you aim at encouraging users to visit your office in person, provide a map with directions in the footer.
2. Sitemap
A sitemap, which is an extra menu in the footer, is one of the most frequently used elements. It facilitates website navigation, makes it possible to provide more links to subpages, and supports SEO by showing Google robots how to navigate the page.
3. Links to social media
A company's presence in social media is a standard today. Depending on the business activity, people choose various social media channels that facilitate advertising. It's a good idea to provide links to your channels in the website footer because users who decide to click on them probably won't return to your company's home page. Therefore, it's a good idea to place them at the bottom of the page so that they don't distract website visitors.
4. Newsletter subscription
If you aim at creating a mailing list that can be used for contact with potential customers and lead generation, you can provide the option to subscribe to your newsletter in the footer. It's a good alternative to pop-ups that are frequently annoying and urge people to give their email addresses.
5. CTA
Call to Action is an essential element of every website. Placing CTA in your website footer can have a positive impact on the conversion rate. This button can encourage people to get in touch with you, check out your new offer, or order a free quote.
6. Terms and privacy policy
Terms and conditions or a privacy policy are the most frequently searched footer elements. They include information about data collected by the website owner and the ways it's processed. In the case of online stores, these frequently include terms and conditions regarding purchases, returns, or complaints.
7. Information about certificates and awards
A website footer frequently includes information that proves the high quality of products or services offered by the company. If you have a quality certificate or if you're a member of an organization for entrepreneurs boast about it and expose a list of awards won by your company!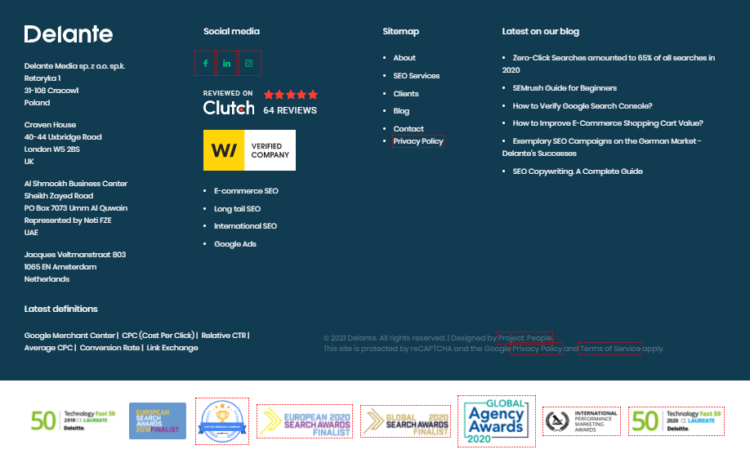 8. Information about delivery and special offers
In the case of online stores, it may be useful to provide information about free delivery or the shipping range and special offers. Such information, together with the CTA, may encourage the user to take advantage of the offer.
9. Copyrights
Almost all websites come with a note saying "all rights reserved" that relates to copyrights and is supposed to discourage e.g. market rivals from copying the content. Although it's not legal protection (after all, it's forbidden to copy all kinds of content) it can encourage users to think twice before using the ctrl+c, ctrl+v option.