You see, if you look at
social media
in a general perspective, it is not just a place for people to socialize - social media platforms are not only designed for people to connect to others half-way around the globe, or vent out their frustrations in life, or "flex" their successes. Social media is also a place where people can learn more about anything and get updated about the world by consuming different types of content, whether useful or not. Often,
the most valuable and compelling content wins over mediocre ones
. So, if you tackle social media from a business perspective, you must think about the golden principle in Search Engine Optimization that directly relates to social media marketing - CONTENT IS KING. Now, you might be wondering… how did social media become tied with SEO?
Answer:
social media platforms are where your customers or clients can be found! So, you should start to full-on leverage these FREE online marketing tools to drive a great deal of
social media traffic
to your website. Bill Gates was once quoted, saying:
"If your business is not on the internet, then your business will be out of business."
Remember that
social media is a massive part of the internet
. Today, we will share some actionable steps that will help you increase your traffic from social media.
Here are 9 Actionable Tips to Drive More Traffic from Social Media to Your Website:
Complete Your Keyword-Driven Social Media Profiles
Share Your Blog Content to Your Social Media Accounts
Share Your Content More Than Once but No Spamming
Make Sure to Have Easy-to-Access Share Buttons on Your Web Page
Share Your Web Content During "Peak Time"
Share More Visual Content
Make Sure to Add Call-to-Action
Stand Out by Engaging with Your Audience Consistently
Leverage Paid Social Media Advertising
But before we dig deeper into each tip, you might be asking…
What is Website Traffic from Social Media?
The social media traffic can be the result of your off-page SEO efforts - the activities that are happening outside of your website but point back to your site.
You can call these backlinks.
If you leave your web pages links out there and spread them across your social media platforms, people will see them on their news feeds, and if they get interested, your target audience will click on the links and land on your web pages. That's how social media traffic is made. Now,
if you don't have any social media accounts for your business yet, it's time to sort out which platforms are best for your brand
.
Social Media Platforms for Businesses
You may already consider social media giants like
Facebook
,
Instagram
,
Twitter
,
YouTube
, and
LinkedIn
, but these are not the only networking sites you should check out.
There are plenty of remarkable and essential platforms for your business out there, but we cannot name every one of them.
You see, it really depends on your audience, so we will share some of the social networking websites that are also worth checking out:
Google+ is excellent for boosting your SEO because it allows you to share your website's content on a Google-owned platform.
Pinterest is fantastic for sharing visual content, such as infographics and images from your blog post.
Reddit is where you can engage with a dedicated community that can be your ideal customers, and this is where you can prove your expertise and knowledge in your niche.
Tumblr can be tremendous multi-media library support for your website.
Snapchat is useful in documenting your company's behind-the-scenes through video and use such content to connect with your target audience by telling your story.
"I can't handle all of these platforms. Which one should I focus on?"
We really can't give an answer that will fit all businesses unless you'll
talk with us about driving more traffic from social media
to your website, and we can provide you a tailored solution. But the most logical step to do first is to
follow where your customers are hanging out online.
Read about the demographics of the users of each social media platform and figure out if the data fits your buyer persona. Now, let's break down each actionable step so you can start building or tweaking your social media profiles for your business.
Complete Your Keyword-Driven Social Media Profiles
Your profile is the first thing that people see when they go to your social media page - your business name, bio, operating hours, the about and contact section, the captions for your profile and cover photos, your recent social media posts. So,
it's necessary to fill in all the information
while including your company's main keywords without stuffing them. Your profile info is the best part to tell people about your business. Also,
don't forget to include a link to your website wherever it applies
, and make sure that your website's home page link can be found in the about section of all of your social media accounts.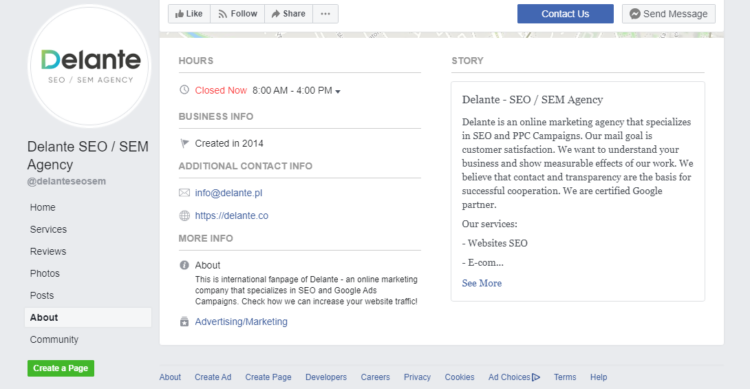 Share Your Blog Content to Your Social Media Accounts
You can't just depend on gaining organic traffic from people searching about the topic you have discussed on your blog post through search engines like Google. So,
keep promoting your blog content to your social media accounts and don't let your written masterpieces go to waste
- your target audience must know that you have something good to offer, which will probably make their day… or their life better. One
case study
shows that several brands committed to creating multiple blog posts per month and sharing them with their social media accounts have gained them an average of 1, 200 new leads per month. This only proves that your content should be shared to social media as soon as it's published. Take note that you really don't have to publish 15 blog posts a month just so you can start sharing your content on social media. Start sharing your content at any point with any relevant blog post you have. You can use free social media scheduling tools such as
Hootsuite
and
Buffer
to promote each of your content, old or new.
Share Your Content More Than Once but No Spamming
The secret to driving more traffic to your old blog posts is by
sharing your content with your social media accounts more than once
. Be careful not to spam your audience's news feed, though. Use free social media scheduling tools to schedule strategically and automatically post each of your website's content. You can start by sharing your blog post for the first time on the day it is published. Share it again on the next day, then the next week, then the next month, and after two months.
Never share your content more than once a day.
That's spamming. Also, make sure that
every time you are about to share the same content, vary the caption of every post
by quoting some parts of the article or asking your customers relevant questions, or changing the images, or even tweaking the headline of the content every 2 to 3 months. Remember that varying your caption will make your feed appear fresh, which will more likely attract your target audience to visit your website.
Make Sure to Have Easy-to-Access Share Buttons on Your Web Page
Making your content easy to share on social media compels your website visitors or readers to share your content on their own social media profiles for FREE. When you write a valuable article, having people reading it is great, but getting people to share it on their own incredible! So,
encourage your site visitors to share your content by putting easy-to-see and easy-to-access social sharing buttons on your web page
.
Share Your Web Content During "Peak Time"
It is always better to
post your content on your social media accounts during "peak time" or when most of your target audience is active
. This is one of the most strategic and essential steps that you need to do to drive more traffic from social media to your website. If you keep on sharing or posting content while the majority of your audience is not online or too busy to read your post, it will most likely result in your increased bounce rate - people clicking into your web page but bouncing back or exiting from it immediately or after a short span of time. Remember that
a bounce rate can be Google's ranking factor
, so if it's high, it tells Google that your content is not that helpful or relevant. Some social media platforms, like Facebook, can show you the time of each day when most of your followers are online. So, leverage this data to make sure that your content is seen by most of your target audience when it's fresh. If you're just starting out, some parts of your analytics, such as your followers' active time, may not be available yet so you can follow this
social media sharing and posting guide
to know the best time to share or post content on each of your social media pages. Once you have more followers and your pages have been established for quite some time, you can start experimenting with which time slots of the day are driving more traffic to your website and more engagement rate to your social media pages.
Share More Visual Content
Sharing visual content that stands out from the rest is the best way to grab an ideal site visitor's attention. People often fast-scroll endlessly through their social media feeds. So,
focus on sharing more visual assets that will better promote your interesting and helpful website content
. These are the most popular visual elements you can start with:
Videos
Live broadcasts
Animations
Images
Graphs
GIFs
Infographics
You can create beautifully crafted graphics by using
Canva
or scour royalty-free HD photos from FREE online resources such as
Pixabay
and
Unsplash
.
Make Sure to Add Call-to-Action
Adding call-to-action can help you increase your engagement on your accounts and gather more traffic from social media to your website because call-to-action signal your target audience on what you want them to do.
We use call-to-action on landing pages and blog posts, but they are also useful in convincing your followers to click-through from your social media posts to your website.
The most popular CTAs you can use are the following:
Click here
Learn more
Visit our site
Check out our latest blog post
Read more
Remember that CTAs are your persuasion words to make your readers click on the content you're sharing. So,
be creative with your call-to-action
.
Stand Out by Engaging with Your Audience Consistently
Build stronger customer trust and connection when you engage with your audience consistently through your social media channels. Answer questions and respond to feedback in real-time as much as you can, and
use the responses from your followers to improve their experience with your brand
. Most importantly, engaging with your audience is a great way to drive more traffic to your website as you suggest content from your site that they may be interested in checking out. Not many people receive replies from brands so
you can use this opportunity and connect to your target audience as much as you can, so they remember you and forget your competitors
. Here are some engagement methods you can start doing or improving:
Reply 100% to messages in your social media page as fast as you can or use chatbots
Participate in posts comments
Respond to posts and comments mentioning your brand
Look out for hashtags related to your industry and spark relevant conversations
Join forum chats that are focused on your niche
Leverage Paid Social Media Advertising
Paid social advertising is one of the most effective ways to reach your target audience who have not seen or heard your brand yet or those who may not have visited your website. So,
if you have the budget for digital marketing, paid social media advertising is worth a try
. Anyway, doing a Facebook campaign does not really break the bank since the average cost-per-click (CPC) often ranges from USD 0.45 to USD 0.70 per click. Now,
remember that you should build your target audiences based on their interests or your buyer's persona
. You can note the most relevant content from your website that can stimulate each set of audience profiles that you build and allocate a budget based on the size of each set.
Final Thoughts
Now that you're equipped with these actionable tips to drive more traffic from social media to your website, put these into practice as soon as possible and watch your social media traffic soar high. With an optimized social media strategy, you can freshen up your social media profiles and encourage more followers and target audience alike to read and share your content.