When the market goes down it's often seen that marketing expenses are decreased. With lower income, not many companies can afford to increase their budgets on marketing spending.
How to handle this situation? How to choose the best investments in times when you don't have as many sales as you wish?
Watch our video, or read the transcription below!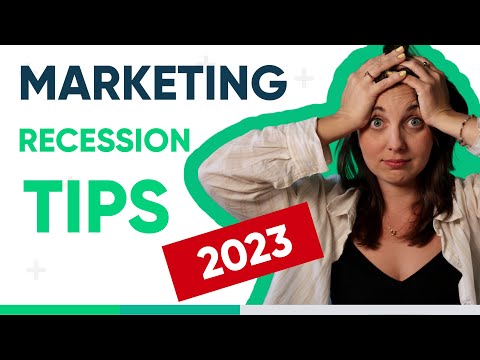 4 Groups of Customers During Recession
Let's start with getting to know your customer. In difficult times, there are four groups of customers according to Harvard Business Review.
The first one is slam on the brakes – these are customers that try to decrease their spending and they are not buying as much as before. They will most probably postpone spending if it's possible, and this is the group that has lower income.
The second group of customers is saint but patient. This is the biggest group of customers. They feel more confident when it comes to the long term but less confident when it comes to the short term. They will not decrease their spending as soon as the first group, but they might move to the first group when the recession hits harder.
The third group is the so-called comfortable well-off. They feel secure, yet they are still selective when it comes to spending.
The fourth group is the live-for-today group. They will not change their behavior so easily. They might change the way they get things, for example, instead of buying a car, they will rent it and they will invest more in experiences than in things.
What Should You Do with This Knowledge?
First thing, identify what is your target group and which segment they are in.
Secondly, think about your product. Is it an essential product? Is it going to become less essential for your customers in recession times?
If so, you have two solutions. The first one is to change your product so it becomes essential, and the second one is to change communication about your product so your customers know that it's essential for them.
All in all, you have to be flexible and adjust your product to actual needs in the recession times.
Marketing Strategy
Leaving the product strategy, let's move on to marketing tactics and answer the question of what to do with marketing when the recession hits.
The first tip I have for you is please don't kill long-term strategies. It's certain that the recession will end sometime, and you will need the basics when it happens. Keep in mind that your competition probably will continue with all the basics and all the long-term strategies, so if they do, you will have to catch up after the recession ends.
Secondly, analyze the ROI of your activities and try to choose ones that are bringing you more income in the short term. The first tip I have for you is to try to invest in existing clients to keep them longer with you. If you are working in B2B, work on customer service and try to give something extra to your clients.
In B2C, you can implement some new loyalty programs, give something for free, or offer discounts. Reach out to your previous customers.
The last tip I have for you is to invest in your prospects. If you have an email database, reach out to them, send them emails, send them newsletters, and remind them about yourself and your brand. They might not be able to invest right now, but they will be able to invest in your services or products in the future, so make sure they don't forget about your brand.
So, these were tactics to implement in your marketing strategy, but sometimes you need to find some savings as well.
Where to Find Saving Opportunities?
Tools
The first one I would say is tools. Are there any cheaper solutions than the ones you are using? Can you eliminate some tools because you don't use them as much as you should or you don't have any profit from them?
If you can do the same job with another tool that's cheaper, it's definitely something you should implement.
Database
The second thing you can do is trim your database. If you are using any marketing automation system, check if you are not charged for the number of contacts you have there. If so, you can go through this contact list and check if there are any people who are not responding to your communication, not opening your emails, or not clicking on links that you are sending them.
These are people who are just eating your money, and you can clean this database and pay less for the tool.
ROI
With the last one, I will go back to ROI. You can cut projects that are not bringing you much ROI or the ones that you don't know how much ROI they are bringing.
If you are thinking about, for example, rebranding and you don't know if it's really needed, or if you are thinking about implementing some new strategies like PR that you have never done before, it might not be the best time for that. You don't know how much return on investment you will get from these projects.
It's better to focus on strategies that have proven successful and will bring you more ROI in the short term.
To Sum Up
Summing up, I would like to invite you to see my previous video where I was talking about collaboration between SEO and marketing teams.
This collaboration can be crucial in times of recession. Talking about long-term strategy, as I mentioned, when the recession finishes, you have to be prepared, and this collaboration can really help you achieve it.
All in all, I wish us all short recession times. If you need help with your SEO or marketing strategies for uncertain times – check out our SEO Boost Services! This is the best option to get SEO results quicker and cheaper without cutting on quality.