When the news about the
Google algorithm update
hits, the anticipation for its aftermath begins. What will it bring? Is my website's performance in danger? Questions are popping to our heads and the uncertainty is one sure thing as no one really knows what will be the detriment for a good ranking from now on. But now, when the dust settled, let's take a look at what were the results of the latest Google algorithm change.
Google Algorithm Updates - why so often?
Updates of algorithms are something we got used to. When working in the industry it's something to simply live with. You may wonder why there are so many of them? Let's take Google for instance - the search engine giant is constantly implementing new solutions an every few months you can expect a major update of the whole mechanism. What's it all for? Search engine algorithms are complex mechanisms that base their work on constant data analysis. Day by day, they review tons of content within the web and with the help of machine learning schemes evaluate, rank, and segregate in order to provide only the top quality, reliable sources to the user. That's why with the ever-changing user's behavior and expectations the algorithms require constant improvements. As for Google, apart from the officially announced major updates every couple of months, the company implements minor changes almost all the time. The main reason is to make the search engine as intuitive and precise as possible - not just to get webmasters on the nerve ;) Let's see what one of the experts in today's article, Gabriel Grossman from Impressive Digital, thinks of the Google updates:
Over the last two years, Google has dramatically increased the frequency of their updates. While they will generally confirm whether an update has taken place, the specifics of what each update is focused upon and what sites may be affected is left to interpretation. My personal belief is that Google has become more sophisticated in terms of its ability to interpret quality signals and the core updates are merely a reflection of that. While we may not know the specifics of what Google is looking to achieve with each passing update, the underlying principles which guide Google's hand continue to remain the same. These fundamentals are perhaps best described by the acronym 'E-A-T' which stands for Expertise, Authoritativeness, and Trustworthiness. E-A-T is mentioned repeatedly in Google's Search Quality Rater Guidelines - a document published in 2013 to help webmasters understand what Google looks for in a page. E-A-T broadly describes the type of content Google wishes to surface to users and while it's not a direct ranking factor, Google is constantly refining their algorithms to deliver more credible, accurate, and meaningful results. Demonstrating these desirable qualities, along with earning positive engagement signals naturally through user behavior, backlinks, and social clout will endear yourself to Google in the short-term, as well as future-proofing your website against algorithmic changes in the long-term.
Head of SEO at Impressive Digital
The consequences of algorithm updates
The importance of Google updates lies in the general strive for optimizing processes and results, which I personally love. Then why seasonal updates make the whole industry freak so much? It's because with the update of an algorithm always come fluctuations in the website performance. Sometimes, a negative impact can be observed in a specific industry while other times Google is simply adjusting to a new worldwide trend. 
So, knowing what is the general idea behind search engine updates, let's see how the last one - May 2020 Core Update - was seen by SEO experts. 
May 2020 Core Update - afterthoughts  
According to MOZ, May 2020 Core Update was the second hottest update since August 2018. It was surrounded by the feeling of anticipation as we all knew it's a high time Google drops a new set of improvements to its search engine. 
The fact the new version of the Google algorithm debuted in May was not a surprise itself. As usual, it came with a great commotion within both SEO experts and website owners. Some immediately noticed abnormalities in statistics, some didn't notice any particular changes in the performance. One is clear - the real effects core algorithm update has on the site performance come after a while since the update. Now, when the dust from May Google update implementation settled, let's see professionals think about the changes and whether it met their expectations.
SEO Experts' Afterthought on the Update
Like many people around the world, as many voices, opinions, and key takeaways drawn from the last algorithm change. When noticing interesting patterns and drawing conclusions about what was behind May's update, as well as what effects it brought to websites' performance, I decided to ask SEO Experts within and outside the Delante team about their insights. To draw an even fuller picture, I decided to also ask Delante's SEO Specialists who day-to-day dive into the complex algorithm factors and work for our clients' position. Below, you'll find what my colleagues found out.
Ali Nezamolmaleki, Head of SEO & Team Lead Organic Growth at Sofatutor
My research was around the school and education-related keywords and sites in Germany. My takeaway:
- The winners have a more clear structure - Fresh content played a strong role - Most of the top websites have kind of similar backlinks profile - I assume content relevancy had an impact on visibility changes - Some of the websites are still losing visibility even after a month
Ali Nezamolmaleki
Head of SEO and Team Lead Organic Growth at Sofatutor GMBH,
Rank Guides
Małgorzata Tarnawska, SEO Team Leaders at Delante
The most recent update from Google brought the new focus on the website's quality. It now became a priority in ranking factors. Google published a Core Web Vitals report and it became clear that websites that most suffered from May implementation were those with so-called, thin content. Therefore, Google targets elements like slow loading, poor UX design, amount of pages generated on-site, low domain authority, and sponsored articles. Nothing really surprising but they continue to provide the most valuable content at the top of SERPs.
Małgorzata Tarnawska
SEO Team Leader at Delante
Andrea Camolese, Head of SEO & Senior Consultant at Instilla
May 2020 update was one of the less noticeable updates we had seen at the agency. Actually, we had some very good increases in terms of traffic on some sites, and some more than justified decreases on others but nothing that could be related to an update. Confronting me with other colleagues the common idea seems to be that Google has tried to promote the most relevant quality content regardless of the brand. Investigating this lead, I noticed how two of our sites have made an interesting exchange of positions.
Site A is the institutional site where you can make lead generation, while site B is an external asset where we are freer to write content with references also to competitors. For a few months the site A had been firmly in the first position for an important informative/transactional key but, with the update in May, there was a total reversal, site B gained and now it stably occupies the first position, while site A has fallen to the second. The strength of B is only in its content (less commercial) and in structured data. Following this lead, I've noticed other similar situations and that's why I'd tend to support the hypothesis that Google is trying to give more value to sites with quality content, even if their authority is not so developed (on both sites there are Link Building activities of high quality but with very different budgets).
Andrea Camolese
Head of SEO & Senior Consultant at
Instilla
Cristina Extremo, Head of SEO at Fly Me To The Moon
Google's May algorithm update hasn't seemed to impact most of my clients much, we noticed a decrease on the number of impressions which led to fewer clicks but only for a short period of time (From the 17/05-19/05 & 20/05-24/05) However, I am seeing interesting results for one of the websites I am managing. It is a product site that has a cooking and recipe blog that is the main source of organic traffic for this client. I am noticing <b?changes in the popular keywords of the month. These terms have always been related to the recipes we have in the blog and where we have schema implemented. This site appears most of the time in rich snippets top three, however this month the keywords that drove the majority of organic traffic to the sire belong to other articles of the blog related to well being. I am noticing as well an increase in visibility and average position but a decrease in CTR, which usually leads to a lower average position, loss of keywords on the rankings or visibility. Also, there are new points recommended to be included in the recipe schema mark up that weren´t flagged up before by Search Console, in fact, this platform is detecting one type of schema as two different ones: "Recipe" and "Guided recipe schema"(a new type of mark up included in May), however, no changes were made to any of the codes. The number of keywords that appear on the SEPRS has increased by 4.20% in comparison to last month, however, the number of keywords on the top 3 have decreased by 2.70%. On the other hand, for the rest of my clients who belong to the travel, lifestyle, and insurance industry, Google´s recent core update had a positive impact. There are no new warnings in Search Console despite all of them having schema markup implemented as well (FAQ, article, video among others) or decrease in organic traffic, visibility, or rankings.
Head of SEO at Fly Me To The Moon
Milena Fietko, Senior SEO Specialist at Delante
When the industry was waiting for the May 2020 update there was a voice that it would aim at the medical industry. It wouldn't be the first time that updates would affect only particular industries, it happened before of course. However, after the implementation of the May 2020 Core Update, it became clear that it has a wider spectrum of focus. Why? We work with a variety of industries on a daily basis and there wasn't a clear trend that would indicate the update being focused on any specific industry - it was a more holistic approach. What could be clearly seen, however, is that Google is on the way to provide more quality content and so websites with, for example, many guest posts with included sponsored links did suffer.
Milena Fietko
Senior SEO Specialist at Delante
Paulina Konopka, Senior SEO Specialist at Delante
I feel like the pandemic situation around the world had, in fact, an impact on May's 2020 update. After all, as a result of increased medical searches and the need to provide only valuable sources and content Google needed to solve the problem of low-quality websites getting to, maybe not the top, but high positions in SERPs. I think the focus on fighting the 'thin content' is clearly visible in the stats now. Sponsored articles lose efficiency. Another effect that I feel May 2020 Core Update brought to Google's search engine is that it's now more adjusted to users' intent. The current situation around the world drove changes in our behavior and so automatically the Google users' patterns and they had to address it.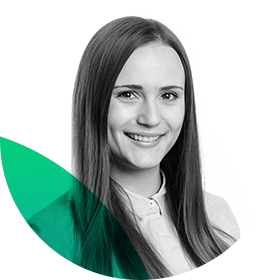 Paulina Konopka
Senior SEO Specialist at Delante
An Author's Take on May 2020 Algorithm Update
Now, when you got a small dive into how the SEO industry professionals see the latest Google core algorithm change I think it's high time to share my personal thoughts. It's clear that the quality of content within websites was, for a long time now, among top priorities for Google. It's clearly visible when one takes a closer look at what sites lost on the May update.
Google obviously continues to "punish" (drop down) websites that provided poor information, fake news, or sponsored articles that weren't addressing the users' intent.
However, I'm leaning toward the opinion that, in fact, it was the global situation that drove Google to implement new solutions that would weed out low-quality sources. The pandemic changed our behaviors and online search intensified. Google's aim is to become the main source of information. Eventually, the medical websites started to rank high but among them, you could find those that didn't really fit Google's idea of a reliable source of information.
It was a too important issue to address to let the weak websites slip to SERPs. And so the company put an extra force to improve algorithm ranking mechanisms. Simultaneously to implementing changes in algorithm, Google prepared
improvements in the SERPs
, so that the most vital information could be easily found.
The algorithm update is always causing a commotion within the industry and for good reasons. While in general, algorithm changes can cause massive fluctuations in the website performance it's hard not to notice the positive impact it has on the usability of the search engine. As SEO experts our job is to go with the change, as it helps users' get to the valuable information, by constantly improving the elements within the sites we take care of. In the case of Delante clients, they carry on with content marketing activities based on our well-designed strategy. With every update, we see that choosing search intent oriented topics and optimizing high-quality content can grant a stable performance growth after algorithm changes. Such correlation is clear also in case of other representatives of the SEO profession which only proves the point that a thorough strategy can do the trick :) What were your experiences with the May 2020 Core Update? Let me know in the comments!