Table of Contents:
Content Marketing Tools You Need To Know in 2021
Other Great Content Marketing Tools
Conclusions
Content Marketing Tools You Need to Know in 2021
1. WordPress
For several years now, WordPress has been building its market position, currently becoming
the most popular content management system worldwide
. According to the most recent data revealed at the beginning of January 2021, WordPress currently powers
39.5%
of all websites. I admit that WordPress is really powerful and thanks to a huge number of great features and plugins you hardly need any advanced skills to build your blog with WordPress. What's more, this CMS is perfect not only for blogs but for online stores or portfolios as well. I'm not saying that other content management systems will be a bad choice for you, but not without reason WordPress has been an unquestionable leader for years - it can be easily customized and is also open source. So what more do you need to run a blog and publish your own content?
2. Yoast
Speaking of WordPress, let's not forget about by far the best content optimization plugin.
Yoast is a plugin that will take your SEO to the next level
. Why? Once you install it, you will be able to easily set a
title tag
and
meta description
or provide user-friendly URLs for your pages. Basically, with Yoast, content optimization will become so much easier and faster. But what I really love about Yoast, is the real-time content analysis. Once you enter content in WordPress and specify the main keyword, this plugin will immediately analyze your content and indicate what needs to be improved.
3. Grammarly
Isn't grammar your strong point? That's not a problem anymore!
Grammarly
will provide everything you need to create grammatically correct top-notch content and, simply, it will save you from embarrassment. Let's face it, users pay attention to the quality of content and if you make grammar or spelling mistakes, they will think less of you and the brand you represent. Just to warn you, Grammarly doesn't do wonders and won't catch every mistake you make, but it's still a great tool for proofreading. So always use it before publishing content not only on your blog but also on social media or other platforms.
4. Hemingway Editor
Hemingway Editor
is another great tool to review your content. While Grammarly focuses primarily on pointing out your grammar and spelling mistakes, Hemingway Editor gives you tips on how to make your writing better. Upload your piece of content there and this great tool will immediately highlight all highly complex and hard to read sentences or common errors. Remember not to rely only on the Hemingway Editor anyway - even if this tool will show you certain sentences as too complex or complicated, it doesn't mean that you have to shorten them, the decision is yours to make!
5. Canva
Who of you still doesn't know
Canva
? I absolutely love this tool! With Canva, you can easily create eye-catching and visually stunning images to add to your content. After all, images are, without a doubt, one of the most powerful types of content that works every time! I know that for some of you
Adobe Photoshop may be too expensive
, besides it takes forever to create something beautiful in this software, and
here's where Canva enters the game
! This tool is so user-friendly and, what's more, it has pre-built layouts and templates that you can use for different content formats. Sounds amazing, right? So what keeps you waiting? Check Canva and create some nice images to boost your content. Lots of fun with Canva guaranteed!
6. The Stocks
For those of you, who sometimes need high-quality beautiful images to add to the content, websites with stock images and photos can be a blessing.
The Stocks
gathers the most popular free stock photo sites in one place. Among them, you will find Unsplash, Pixabay, Pexels, and many others. So next time you're looking for great pictures for your article or Facebook entry, visit The Stocks and choose stunning pictures. And one more thing: at The Stocks, you will find videos, mockups, fonts, and icons as well. So maybe they will also be a great idea for your content worth considering?
7. Fiverr
Fiverr
is a great place if you look for freelancers from all over the world to start a cooperation with. Would you like to find talented and experienced content writers, graphic designers, translators, and web designers? This popular online marketplace will be the perfect place for that! Register to Fiverr and find professional freelancers for your project that offer services for very reasonable prices.
8. AnswerThePublic
Looking for the best content ideas?
AnswerThePublic
will give you some great hints. This popular tool, based on autocomplete data from Google and other search engines, shows what users are actually searching for. AnswerThePublic is very simple - just insert your keyword and the country, and you will get a list of questions that people are asking about. With this tool, you won't waste your time
creating content that doesn't even have the potential to boost web traffic. So, find out what your target audience searches for and create content that meets their expectations. That's the simplest road to success with your content marketing campaign!
9. Google Trends
Google Trends
is another great place to look for content ideas and, what's especially important, to see if your ideas have any potential to go viral at all in a given period. So if you want to prepare seasonal content, e.g. for Christmas, Valentine's Day or Mother's Day, Google Trends will show you exactly when users start showing interest in a given topic. This way you can prepare your content right on time! This tool
does not offer any highly advanced features
, however, Google Trends is completely free and gives a general overview of whether your content marketing campaign has a chance of success.
10. BuzzSumo
If someone asked me which content marketing research tool I recommend, I would indicate
BuzzSumo
in the first place. Why? BuzzSumo offers a wide range of great features to discover trending topics and to follow competitors' content marketing campaigns. BuzzSumo is useful for content marketing research for several reasons. With this great tool, you can:
manage your brand reputation,
find the best content ideas,
conduct an in-depth content analysis,
observe trends in content marketing,
find influencers to reach a much larger audience,
conduct a competitive analysis.
And these are just some of the great features offered by BuzzSumo. However, I must say that it's a great tool for a bit more advanced marketers.
11. Mention
Would you like to find out who mentions your brand and what your competitors say about you? In that case,
Mention
will tell you everything you need to know! With this marketing, you will always stay up to date. Why do you need Mention for your content marketing?
This tool enables you to
:
monitor social media, forums, and blogs,
be informed whenever someone mentions or criticize your brand or products,
analyze competitors and their activities online,
plan your content calendar,
export custom reports.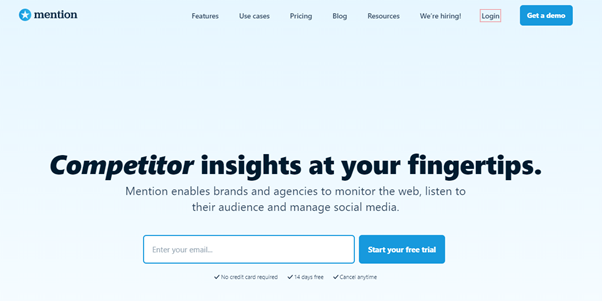 12. SEMrush
If you are planning any online marketing campaigns, whether it is SEO, SEM, content marketing or social media,
SEMrush
is absolutely essential. I can't imagine my daily activities without this multifunctional tool. When it comes to content marketing, SEMrush will certainly be useful for strategy planning, especially to:
13. Ahrefs
This list wouldn't be complete without
Ahrefs
. If you have been involved in SEO or content marketing for some time now, you definitely have heard more than once about this tool valued by marketers from around the world. Ahrefs will allow you to
keep track of all the activities of your competitors
so that you never miss anything. Check, for example, which pages have the highest web traffic, for which keywords your competitors rank in search results, how often they update web content or where their backlinks come from. The features delivered by Ahrefs are endless!
14. Google Analytics / Google Search Console
Once you have implemented a well-planned content marketing campaign, you have nothing else to do but to analyze, analyze, analyze… And which tools do it better than Google Analytics and Google Search Console? If you have entered the tracking code correctly, you will have permanent access to tracking the most powerful business metrics, such as
web traffic sources
,
conversions
, bounce rate, business goals,
audience reports
and so much more! What's more, with Google Search Console, you will be able to monitor which pages generate the highest organic traffic and which keywords users types to reach your web content. On our blog, I prepared a list of 5
fundamental Google Search Console functions
, I hope they will prove useful for you!
Other Great Content Marketing Tools
It would be
impossible to list all the content marketing tools
that you can use when planning, creating or analyzing content. Above, I described my favorites and the ones I use in my daily activities. Here, you will
find other great content marketing tools that also deserve a chance
:
Conclusions
With the right content marketing campaign, you may increase brand awareness and recognition, boost web traffic, improve conversion rate and achieve the desired business goals. So there is a lot to fight for! I listed above the most important, in my opinion, content marketing tools. You can use them for different purposes and at different stages of your campaign. Choose at least some of them and check which ones suit your needs and meet your expectations. And which content marketing tools do you recommend? Or maybe I didn't mention some tools you use for your content marketing strategies? Let me know in your comments. I can't wait to get your feedback!