Case studies
Endera.de - SEO Case Study
Endera.de is a company operating in the German market. They provide diagnostic services, repair, and installation of electronics and software in vehicles.
See how we've increased their monthly organic traffic by 135% in just 18 months!
Monthly organic traffic
+135%
Increase in February 2019 (vs February 2018)
Yearly organic traffic
+118%
Growth in 2019 (vs. 2018)
Our cooperation started on the 1st of September, 2018. The site was built on a dedicated CMS and didn't generate much organic traffic.
Quick facts:
German market
Low organic traffic
Lack of content and blog on the site
Problem 1: Dedicated CMS
Dedicated CMS usually is a challenge for SEO optimization. The best-known CMSs have many modules that enable e.g. title or meta description changes. When working on a dedicated CMS, there is usually a lack of such modules. There was no meta data functionality at all. At the beginning of cooperation, we've implemented most of the technical SEO changes globally via FTP.
Using FTP, we have introduced:
Breadcrumbs
Schema markups
Subpage titles
Automatic internal linking
Problem 2: No H1 headers on the service subpages
The subpages of services did not have any first-level headings (H1), or they were imposed on the wrong element. We have marked particular H1 elements via FTP.
Example of change: before the H1 marking was applied to the wrong element:
It should be applied to the service name:

After marking H1 via FTP, the structure of the headings on the subpage looks as follows:
Problem 3. Lack of breadcrumbs
Breadcrumbs are elements of website navigation that not only help improve UX for users, but also support internal linking and help Google robots navigate the page.
We've added breadcrumbs on the page and used Schema markups, so they now also appear in search results and SERP results look more attractive.
Example:
Problem 4: No sitemap
Dedicated CMSs usually do not have a module to generate and (constant) refresh a sitemap. We generated the sitemap using an external tool, and we refresh it manually on a regular basis.
Problem 5. Lack of marked structural data
Although Endera does not offer any products for purchase on its website, the service on the website has product features – a specific price, photo and description. That is why we decided to implement structural data type:product.
We added it using FTP.
Problem 6. Errors in internal linking
Internal linking is an important element of each website's SEO strategy. Well maintained, with the right anchors, and leading to well-selected subpages, is able to influence the position in Google for these subpages.
In Endera's case, there was a common internal linking error on the home page. The link was applied only to the anchor "MEHR" (en: more). We put the link on the category name, we also put rel="nofollow" attribute in the link on the word "MEHR".
There was another error on the service subpages – the link was applied to the entire block, without any anchor. The image on which the anchor was put, was not described with any alt attribute. In FTP, we've changed the global settings so that the alternative description is now automatically downloaded from the service name. We've also added an anchor.
Problem 7. The services did not have dedicated subpages
Endera offers services for various car brands. Services for individual brands did not have subpages. We decided to create them and add texts on the most important subpages.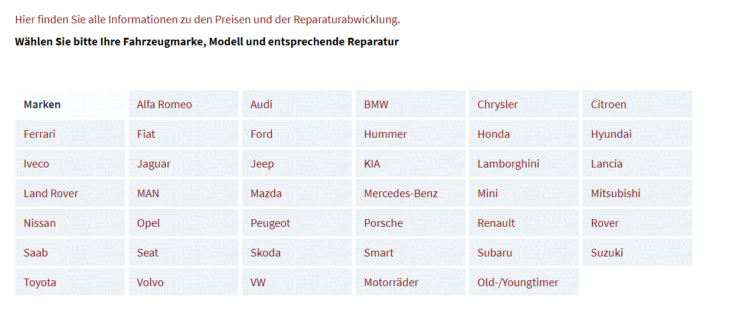 Example of a subpage: https://www.endera.de/alfa-romeo.html
We have globally set to add the H1 heading (brand name + service), and to add title and meta description (the end of the title and description is added automatically). Now, we are optimizing them manually, because a module for changes has been added to the CMS.
Off-site SEO
From the beginning of the collaboration, we've been rebuilding a link profile to the Endera site, manually adding valuable links from strong sites. We also worked on a cloud of anchors, which at the very start had not been well built.
Links before starting cooperation:
Link profile after 1.5 years of cooperation:
Anchor profile before cooperation:
Anchor profile after 1.5 years of cooperation:
Increased website visibility at google.de:
Organic traffic increase:
Comparison of organic traffic: February 2020 vs February 2019 – 135% increase
Comparison of organic traffic 2018 vs 2019 – 118% increase
Increase in relevant keywords position:
SEO process for Endera's website on the German market is not the easiest task. What's to maintain is a dedicated CMS with limited content editing options. Many changes on the site were conducted via FTP, and with the help of Delante developers. Thanks to the technical solutions we used and combined with the regular wide positioning process, we have achieved very good results in a competitive industry.
Milena Fietko
Senior SEO Specialist
See more case studies
We specialize in long tail SEO, which works best in e-commerce industry, but also in manufacturing, export or services (and many others). Learn about the stories of our Clients and how we helped them meet their goals.
Vitamoc
511% increase of incomes after a year since using broad SEO approach! See how with blogging strategy we're building organic traffic for seasonal products and we're increasing seasonal sales in a highly competitive industry.
See case study
Netcube
Smaller budget, niche industry, and a brand new website. See how thanks to technical SEO optimizations organic traffic increased by 820% in a year.
See case study
monthly organic traffic growth
SoLovelyBox
See how we've improved traffic in the German and French markets for personalized spirits online store.
See case study