Table of contents:
LinkedIn was founded in 2002 as a social media for job seekers and businesses looking to connect with other companies. That is why it is so popular among recruiters and B2B representatives. Any company can create a page and, for example, publish their news or links to blog articles. Or start the communication with potential partners. But, as in other social networks, here you can also launch ads. First, I will show their types, and then I will give you useful tips on setting them up.
LinkedIn Ad Formats With Examples
I won't go into detail about the requirements for each ad format here because they're already mentioned in the
LinkedIn specifications
. Before preparing texts and creatives for ads, keep in mind that there are restrictions to:
the number of characters in the title, post text, and description;
the number of characters for the text on the buttons;
format, size, and proportions of photos and videos;
video duration;
the number of cards — if we are talking about a carousel.
Therefore, it is better to check the rules in advance, so that you do not have to edit banners and texts.
Single Image Ad
These ads are based on a single image. It appears directly in the
news feed
of those users who are defined as your target audience. We will discuss how to target a certain audience later. You can show this ad to users no matter what device they use: desktop, tablet, or mobile. The user understands that this is an advertisement, as it is marked as "Promoted".  You can see below an example of such an ad:
Carousel Image Ad
A carousel is an ad format that includes
multiple images that a user can scroll
. You can use each illustration to lead users to different pages of your site. Or, if you wish, you can drive potential customers to the same page. For example, to the home page. It is important that the images in the carousel aren't the same. So, for example, you can take a picture of your product from different angles.
Video Ad
As you can understand from the title, this is a video that is shown to users in the feed. The video can last from 3 seconds to half an hour. However, experts believe that
15-second ads bring the most results
. Here you can see an example of a video from a promo course on copywriting:
Text Ads
A text ad includes a title, short text, and an image. Despite such a laconic format,
they are rather catchy
. This is achieved by displaying ads at the very top or on a separate block on the right of the screen. [caption id="attachment_53130" align="aligncenter" width="600"]
Source:
LinkedIn Marketing Blog
[/caption]
Spotlight Ad
These ads contain a
call to action
. And they are also called "dynamic" because their content can change. Spotlight ad contains a specific call to action: download a price list, sign up for a free lesson, register, etc. This format is the best for
driving users to a company website or landing page
. These ads are personalized for each LinkedIn user based on profile data:
job position;
business type;
interests;
profile photo.
Each member will see their own personal information, but their profile information won't be visible to other members. [caption id="attachment_53132" align="aligncenter" width="600"]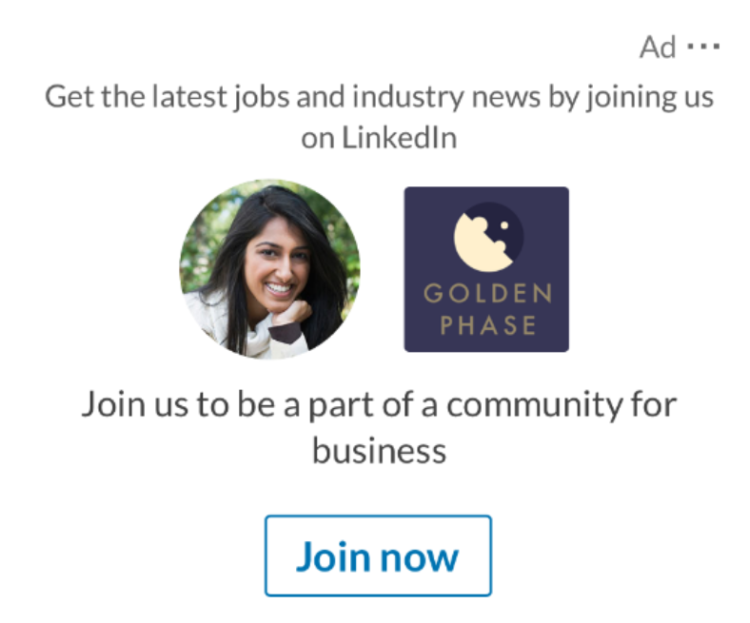 Source:
LinkedIn Help
[/caption] If users want, they can restrict the usage of information from their profiles for the purposes of personalizing ads.
Message Ads
This is a type of ad that is sent
directly in private messages to the target audience
. At the same time, the message is displayed at the top of the mailbox so the user knows that it is "Sponsored".
Note: This type of ad is not intended for spam. For example, LinkedIn does not allow you to send a second sponsored message just after sending the first one. Also, a message can not contain more than 3 links.
You can also choose the sender — for example, send on behalf of yourself or on behalf of the company if you are a page administrator.  You can also add a call-to-action button there:
The message is delivered in real-time, meaning only when prospects and partners are online.
Jobs Ads
As I said, LinkedIn has been used literally from the very beginning to search for jobs and candidates for vacancies. Therefore, this social network has advanced opportunities for this. You can launch ads for different jobs that meet people who are very suitable for the given requirements. This is a dynamic ad format that allows you to personalize job ads. The profile data of the user that matches the target audience determines the version that it will be shown.
Apparently, this format of advertising contributes to the fact that every minute companies find 4 applicants for vacancies. Well, the choice is huge — after all, LinkedIn has
750 million active users
and the audience is growing every day.
Follower Ad
These ads are similar to the Spotlight Ad format described above but they are used for a different purpose. This type of advertising is designed to
increase the number of subscribers to your page
. Like Spotlight, the ads are dynamically customized for each user, showing their photo next to the company logo. It also includes a button that invites them to follow your LinkedIn page:
How Do You Know Which Ad Works Best?
Whatever ad format you choose, it's very important to know how your ad performed. Otherwise, you will spend money on promotions, and they will not pay off. There are several ways to track the effectiveness of ads and we will describe them below.
Built-In LinkedIn Analytics
This social network has its own set of reporting tools that allow you to evaluate the effectiveness of a launched advertising campaign. You can find a full description in
LinkedIn Help
, however, we will describe the main points of its analytics. LinkedIn has a campaign management page with a comprehensive reporting dashboard. There you can analyze the following performance data:
accounts,
campaign groups,
campaigns,
ads.
You can use search to find campaign groups, campaigns, or ads by their name or ID. Filters show you information about a specific status, campaign objective, or ad type.
You can also find the "Breakdown" menu a particularly useful one. There you can compare metrics for conversions, the LinkedIn Audience Network, or image carousel cards — down to each card. The metrics for defining ads will be well clear to people who are already familiar with web analytics. They include profitability, cost per click, click-through rate, conversion, impressions, budget, bid, etc. Among non-standard parameters, you can find
Candidates for a vacancy
. It includes metrics specific to a single job advertisement, such as job applications and bids per job application.
Google Analytics Reports
You can also analyze the effectiveness of ads in the most popular web analytics system - Google Analytics. And it's pretty easy to do so: 1. Create a custom LinkedIn Ads URL using the Campaign URL Builder. To do so, fill out the fields, for example, in the following way:
2. When you fill out the fields, a link with a label will be automatically generated. 3. Open the LinkedIn Campaign Manager and set up your ads: upload your photo/video ad and enter the URL you created above in the
Destination URL
field:
4. Run ads and analyze their effectiveness in Google Analytics. This can be done in
Reports
—
Acquisition
—
Campaigns
—
All Campaigns
.
Special Services
There are numerous services that allow you to evaluate the effectiveness of social networks, including LinkedIn. For example, trendHERO, Iconosquare, Quintly. The functions of such platforms are in many ways similar, so we will analyze their capabilities using the latter as an example. They have features that are useful for impact analytics on both ads and regular posts:
collecting and storing data from all social media accounts,
uploading link clicks — data of clicks on the advertising links to the social network,
assessment of the involvement and activity of the target audience on the promoted page,
creating your own dashboards with collected analytics data.
[caption id="attachment_53155" align="aligncenter" width="750"]
Source:
Quintly
[/caption] That is fairly wide customization options, a user-friendly interface, and convenience. But, of course, you will have to pay for such services. Unlike analytics on LinkedIn or Google Analytics, which are free.
Сall Tracking
The methods described above are suitable for companies applying only online. But there are many types of business, among partners, clients, and candidates for vacancies who mostly call. Therefore, the effectiveness of advertising must be evaluated, including the data on calls. Call tracking will help with this.
How Call Tracking Works With LinkedIn:
Connect call tracking,
Chose a separate phone number that will appear in LinkedIn ads,
If you have two or more ads running, it is better to indicate a separate phone number for each — so you will understand which one works better,
You can place the phone number directly in the post or even on the image,
The number can also be placed in the company profile,
When a client is calling, call tracking records in its reports that the call was made from a LinkedIn ad,
You just have to analyze how often you get calls from launched ads,
Based on this, you can make conclusions about how to allocate the advertising budget in the future.
[caption id="attachment_53127" align="aligncenter" width="750"]
An example of a
Ringostat
call tracking report showing that one of the clients called from LinkedIn[/caption]
How LinkedIn Ads Are Configured and How to Show Them to the Target Audience
Let's take a quick look at
how to set up ads on LinkedIn
and take a closer look at
how to target your audience
. To launch paid content on LinkedIn, open the
LinkedIn Marketing Solutions
platform and click "Create Ad".
To do so, enter the account name, currency, and optionally a link to the company page on LinkedIn. After creating an account, you can use Campaign Manager. Pay attention to the vertical structure of the website sections. First set up campaign groups, then the campaigns themselves, and at the very end — ads.
After that, you need to create a campaign group — this will help organize the account structure. For example, you can set up
different groups for different target audiences or goals
. Let's say one campaign group for hiring top managers, another for developers, and one more for finding business partners. Please note that you cannot have more than 1000 campaigns in one group. Then you need to set up the campaign and select the goal. If you hover over the name of the campaign, a brief description of its features will pop up. The following options are available:
Pay special attention to the target audience settings. This will directly affect whether you generate the right leads or waste your budget. LinkedIn allows you to create new audiences or use the default ones. Let's check the parameters that you need to set: 1.
Country of Residence.
If desired, you can exclude residents of certain cities and regions. For example, if your store sells goods only in a specific locality.
2. The language
that is used in the LinkedIn profile settings for your target audience. I advise you to choose the default English language for all regions. After all, users of this social network usually speak it. This way you can show your ads to all users in the country you need.
3. Narrow
your target audience or exclude a specific type of user from it. To do so, you can exclude or select only people of a certain gender, age, education, degree, work experience, and even interests. The latter is determined by groups and the content that users interact with.
4. You can also create
audiences
from scratch, download them, and use pre-configured templates. 5. Interact with your target audience outside of your LinkedIn using the
LinkedIn Partner Audience Network
. 6. By checking the checkbox in the last paragraph
"Enable audience extension"
, you can show ads to an audience that is similar to your target:
7. Now you can launch the ad itself. Select one among the ads on the screenshot below, I have already described them above.
8.
Placement.
By checking this box, you allow ads to appear on LinkedIn partner apps and sites. But this option is not available for all types of ads. 9. You can set the
budget
: daily or lifetime. Specify a
schedule
for showing ads and choose a bidding
strategy
. In general, the interface of the LinkedIn advertising account is very convenient and understandable. And if you have already set up campaigns on other social networks, it shouldn't be a problem for you.
Summary - Linked Ads Best Practices
To sum up, I can say that LinkedIn is a great way to promote in the B2B segment and find partners, as well as employees. But it's not enough to just set up ads and wait for results. To be effective, follow these tips.
Analyze your target audience and the ads that your competitors or companies from related fields are already showing. Thus, you can create relevant images and attractive ad texts.
Make sure you analyze the cost recovery of ads, otherwise, you will spend part of the budget for nothing. To do so, you can use analytic tools, or call tracking if at least some of your clients and partners call you.
Test different approaches. For example, try different types of ads and see what works best.