Foreign Search Engines – Not So Popular Alternatives to Google
Google is an unquestionable leader on the search engine market. Although it's impossible not to agree with this statement, it can't be said that this is the only solution. Competition doesn't sleep and continually improves its products. It's good to know the foreign search engines. That's why today we're going to focus on Bing, Yahoo, Yandex and Seznam. We're also about to discuss the most interesting local services offered abroad. Keep reading!
The Internet is a vast source of information and international search engine robots take care of organizing it. No matter whether you're looking for materials for your thesis, a new smartphone, bike accessories, news about your favorite star or simply another video with cats, your online journey starts with entering the phrase into the search engine and clicking the search button.
Foreign Search Engines – There's more to Google!
In most cases you click the "search on Google" button or take advantage from the fact that after entering a search query in the address bar your browser automatically sends it to the giant from Mountain View. This became so common nowadays that no one is surprised anymore when the word "google" and its varieties appear as a verb, adjective and so on.

However, Google isn't the only accessible solution. It wasn't the first one either – foreign search engines such as Ask Jeeves or Yahoo! Search had been cataloguing Internet resources a few years before Google even appeared. Microsoft is also constantly developing its search engine. Bing is fighting with Yahoo! for the second place on the market. But it's not only about global search engines. There are countries where Google isn't the leading search engine and we're not talking only about China (Google withdrew from this country because of the censorship but interestingly from time to time there are rumours that it's about to come back on this market). It may happen that local search engines such as Seznam or Yandex will meet the expectations of the users from these particular countries better. There are reliable alternatives to Google and you should remember about them during various SEO activities.
Google vs. its competition on the market
Google is an international search engine giant which regularly offers new services created either independently or by incorporating smaller companies with interesting ideas (e.g. YouTube). The greatest advantage of Google is the interconnection of individual services within one Google account. Android smartphone, computer with the Google Chrome browser, Android TVs – Google is omnipresent and offers content and services tailored to your needs.

And that's why it may be hard to resign from Google. Although people are more and more concerned about the privacy issues, comfort is still one of the most important factors in terms of everyday activities. Google knows and provides it perfectly. Personalized search results, notifications with the most interesting news, easily accessible videos of your favorite YouTube creators – all of these available at your fingertips. The algorithms of the Google's competition aren't as "perfect" as the solutions of the giant from Mountain View. Although they don't offer equally impressive integration with your devices, foreign srarch engines have many notable advantages. Yandex works well with Cyrillic websites and tries to fight with sites promoted by black hat activities. Seznam and its maps will tell you how to spend your free time in the Czech Republic. Bing, on the other hand, provides integration with Windows.  Duckduckgo makes privacy its priority.
Bing – foreign search engine from Redmond
The search engine known from 2009 as Bing (previously it was called MSN Search, then Windows Live Search) is a service offered by Microsoft and it's supposed to compete with the world leading search engine. It welcomes you with beautiful graphics in high resolution and after logging in to the Live account you can easily access tools such as Office Online or Outlook.com. Bing does well with searching for graphics or videos and offers its own maps with traffic analysis.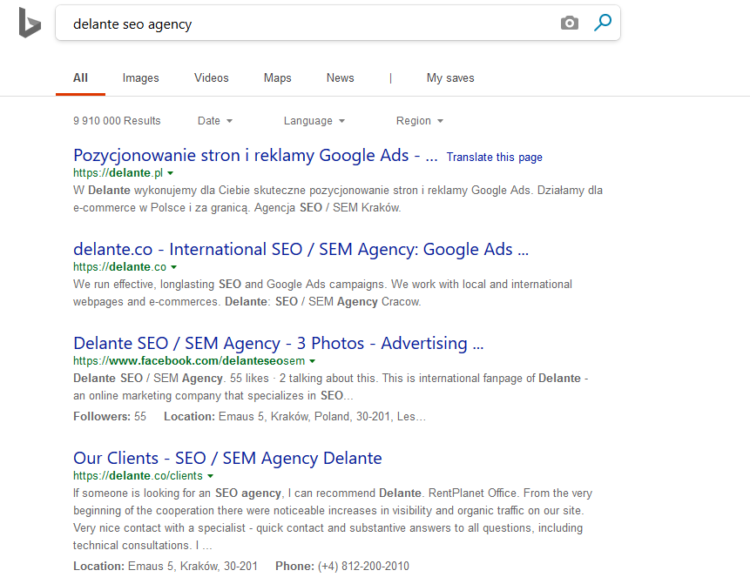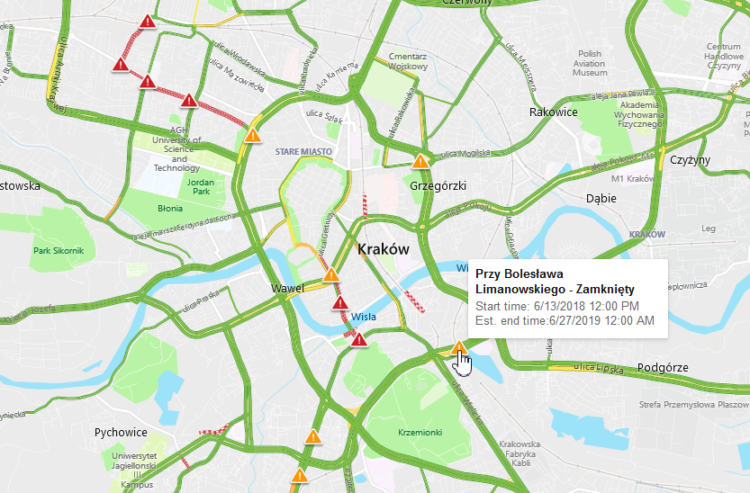 SEO for Bing
Just like Google, Bing agrees that content and context are real kings. Valuable content, closely related to keywords entered by the users can be ranked very high in the search results. However, there are some major differences when it comes to SEO for Bing.
Google algorithms analyze content better and are able to match it to your intentions. The situation with Bing is quite different. In the webmaster guidelines it's recommended to use the most relevant keywords as often as possible, in every place. URLs, H1, H2 should contain phrases that are interesting for you. It's also a good idea to put them in the meta description and meta keywords tags as well. It won't do any harm, just the opposite – it can increase the position of your site in the search results. Of course, it's advisable to use various inflectional endings in the texts, however, avoid keyword stuffing which is about using too many keywords. Nevertheless, it's been an ongoing trend to create content that looks and sounds natural.
If you enter "credit cards" in Bing, on the first place you'll see a website whose address contains this word.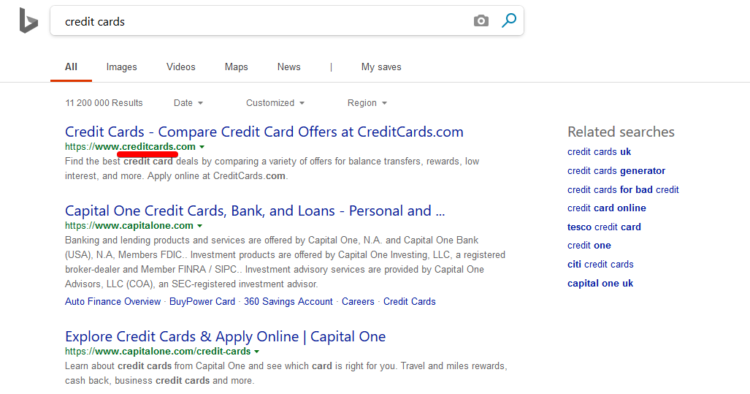 However, if you enter "credit cards" in Google, it will focus on the closest results to your location: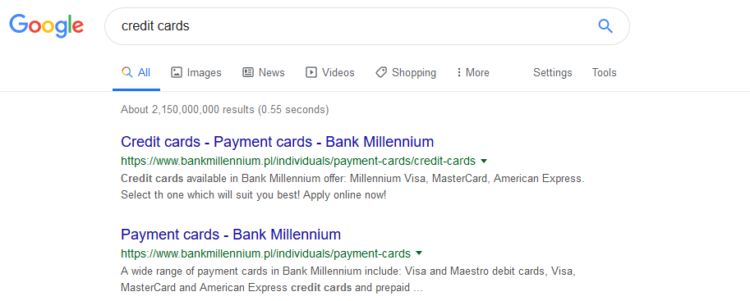 The Bing's definition of a good backlink also differs from the one proposed by Google. According to experts, the value of linking has slightly decreased (you could read about it in 2017 on the Search Engine Land). Nevertheless, it's still worth taking care of this part of SEO and trying to get links from thematically related websites. Domain authority and its age are another crucial factors – the older the site, the more valuable the link. Various analyses (such as the one published on the Monitor Backlinks blog) indicate that the role of anchor links (keywords related to the subpage) is much more important in the case of Bing than in the case of Google. It's all due to the abovementioned method of keyword interpretation which openly encourages website owners to use keywords whenever possible. A sufficient number of backlinks from trusted and well-known domains should help in achieving high positions in Bing, provided that they aren't spam.
Bing by Microsoft stands out from the competition on the market due to its interpretation of links in social media. While Google seems not to pay attention to them (at least that's the official statement), it's one of the most important ranking factors for Bing. Why? Links on social media show that the website is active and when it's mentioned on Facebook robots find it easier to locate valuable content on the site.
Specially for administrators and webmasters Bing has prepared a tool resembling a combination of Google Search Console and Google Analytics. Using it enables you, among others, to report subpages for indexing, check traffic and functioning of Bing robots or perform a simple SEO analysis.
Yahoo! Search – browsing the Internet before Google was born
Google's biggest rival appeared on the market in 1995. Yahoo! Search is a part of a great service that provides news from all over the world, messenger, mail and many other useful services in North America, South America, Australia and some European countries.
SEO for Yahoo!
The aforementioned "fight" for the second place in the search engine ranking between Yahoo! and Bing turns out to be only illusory. Since 2009 there has been a clearly defined cooperation agreement between Microsoft and Yahoo!. Although theoretically speaking these search engines have their own algorithms, they're very similar in reality. So if you decide to run SEO for Yahoo!, you'll automatically improve your position in Bing and the other way round. There is no point in saying the same things twice, we've discussed the most important aspects above while analyzing SEO for Bing.
DuckDuckGo – Foreign search engine where safety as a priority
You turn on your computer – Google, smartphone – Android (also from Google), telly – Android TV (names aren't the same incidentally). In 2013 there was an attempt to install Android even in fridges but projects such as Samsung T9000 failed. In conclusion, Google is (almost) omnipresent and has access to your private data.
Therefore, it isn't surprising that services which care about privacy and don't collect or sell data are becoming more and more popular. The DuckDuckGo search engine is one of them and its popularity has been steadily growing. According to Alexa, it's currently among the 200 most frequently visited websites on the Internet.
SEO for DuckDuckGo – going back to the roots?
The information in the DuckDuckGo help panel makes every person interested in SEO smile.  While Google, Bing and Yandex suggest that linking is something bad, DuckDuckGo says:
Nevertheless, the best way to get good rankings (in pretty much all search engines) is to get links from high quality sites. 
This is one of the two sentences in the help panel that are related to SEO. The second one isn't of help as it states that the ranking is a complex and frequently changing concept which is hard to explain.
In the case of this particular search engine, local search is based solely on GeoIP. And while this system is quite accurate in big cities, in countrysides the search results may be far away from the ones required by the users. Since the search engine doesn't collect any extra data about the user, it relies only on keywords entered in the search bar.
So how to run SEO for DuckDuckGo? This secure alternative to Google downloads its results from other sources! In 2014 Caine Thige (CTO DuckDuckGo) spilled the beans in one of her Quora posts. Such information can also be found in the help panel. Apart from its crawler DDG uses not only Instant Answers – commonly known and valued websites such as Wikipedia – but also the data provided by other search engines (excluding Google). However, it uses Bing and Yahoo! which were mentioned earlier, therefore if you want to find out more about SEO for DuckDuckGo go to SEO for Bing. Surely it won't do any harm.
If your site contains a lot of valuable information, you should think about applying for your own !bang on DuckDuckGo. It's a tool that allows you to browse only a specific page by using a command with the "!" sign at the beginning. If your content is really useful, you'll attract the DuckDuckGo robots attention.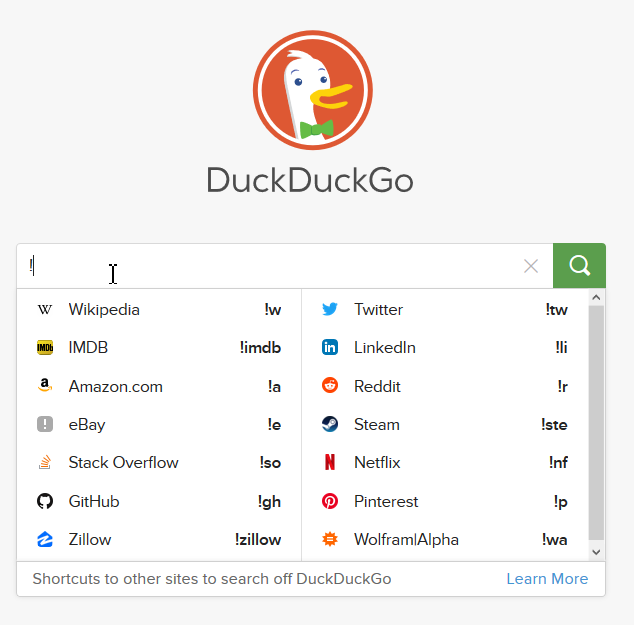 Foreign search engines with local & national focus
The four aforementioned alternatives to Google are solutions created for users from all over the world. However, this area can be approached completely differently – there are local search engines useful for the inhabitants of a specific country or region of the world. Seznam focused on the Czech Republic and Yandex, developing worldwide, can be taken as examples from Europe. The Chinese market is particularly intriguing due to the politics and although it's useless to search for the world tycoons there, it offers a few interesting solutions.
Yandex – it's possible to outdo Google!
Yandex is a leading search engine on the Russian market. The search engine founded in 1997 has been indexing international resources since 2010. Moreover, it offers its services to a wide range of users under the name Yandex.com. In addition to the search engine itself, the service offers also e-mail, maps, translator and a separate browser. It perfectly handles Cyrillic websites, as befits a Russian tool.

When you create your account in Yandex.com, apart from the abovementioned services, you also get access to Yandex Webmaster and AppMetrica marketing tools. It can be said that Yandex Webmaster is an equivalent of Google Search Console – it enables you to index the content, check the phrases on which your website is displayed in the search results, test robots.txt and sitemap or monitor your backlinks.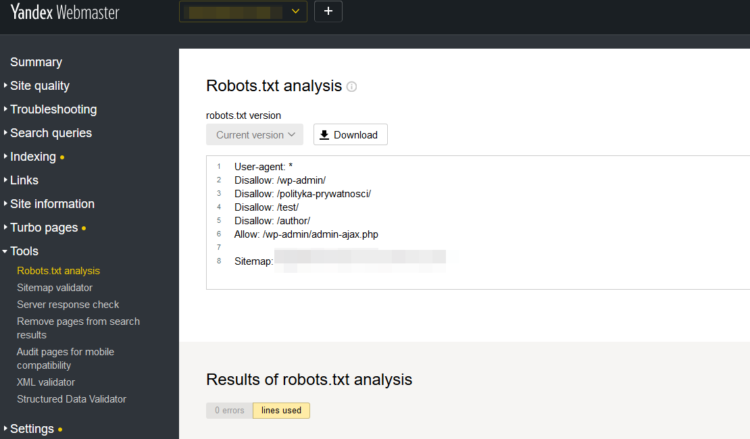 SEO for Yandex – quality and local search
Russia is an enormous country. A user looking for specific services in Moscow won't be satisfied with the search results from St. Petersburg or Vladivostok. That's why Yandex focuses on local search. In Yandex Webmaster settings you will find the option to configure not the country but also the specific region (or even the city) in which you operate. Apart from that, it's also advisable to include contact and address information on the website. If you've offices in various regions, it's worth highlighting individual addresses. It'll facilitate the work of Yandex search algorithms. Moreover, you can also add your company and its activities to Yandex Business Directory.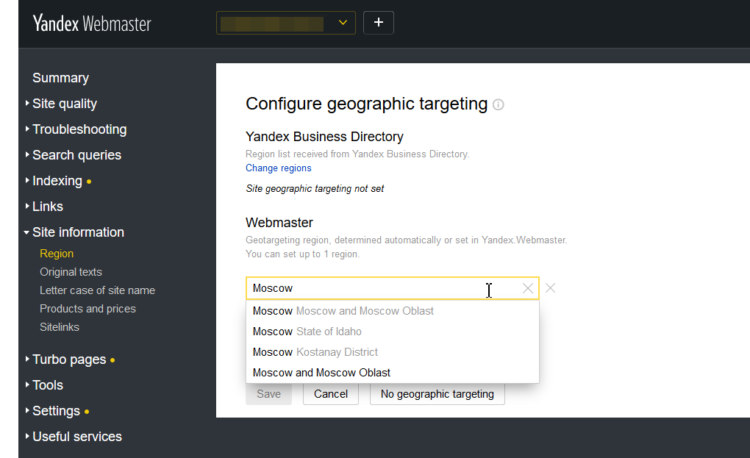 If you decide to conduct any SEO activities for Yandex, you can find tips on creating websites in the search engine's help panel. It provides several fundamental differences between the Russian search engine and Google. Without a shadow of a doubt, UX is of the utmost priority – the more satisfied users and the bigger traffic to the site, the better the position of the website in the search results.
The content of the website is unchangeably important. Valuable texts, proper formatting, using the H1 and H2 headings are one of the cornerstones of success. Yandex is even stricter than Google when it comes to websites with spam. Preparing texts valuable in terms of SEO but completely meaningless for users will hinder obtaining high positions in the Yandex search results. Duplicate content means being punished and removed from the index. The rules are simple, yet effective.
While conducting any SEO activities for Yandex, you should pay special attention to the title of the website and its meta description. They should contain valuable information (including keywords), they can't duplicate one another and they need to be unique for each subpage.
Yandex search engine robots focus on the keywords meta tag. Therefore, it's important you provide it with essential keyphrases closely related to the content of a given subpage.
If you want to find out more about meta tags in Yandex, go to its help panel. It's a good idea to follow these tips.
Other search engine providers have a rather liberal approach to website linking. Although they say that links are less valuable, the real life shows that they're still very important. Be careful – links don't always come from valuable and readable sources. The Russian alternative to Google made it clear, the "Minusinsk" algorithm severely punishes websites that use paid links created only for the needs of SEO. Does it mean that Yandex doesn't take linking into consideration? Not necessarily. A valuable link is the one obtained naturally – thanks to users' discussions or reliable content. However, if it doesn't generate traffic to the website, it might be regarded as spam and result in painful and long-lasting punishment.
SEO for Yandex equals high quality of the website and its backlinks. Any attempts at deception will dramatically decrease your position and traffic to the site. In the case of Yandex the SEO process is much more time-consuming than in the case of Google – be patient.
Seznam – the Internet in the Czech Republic
Seznam.cz was created in 1996 and is the greatest Internet portal in the Czech Republic. At first it was only a website catalogue but over time it evolved into a site with its own search engine.

The users of Seznam have access to email, Czech maps, company directories, news and several other services. It meets the expectations of the inhabitants of this country and that's why it's so popular. Maps provide you not only with information concerning roads or the most important service points but also with suggestions for weekend trips as well as hiking or biking trails.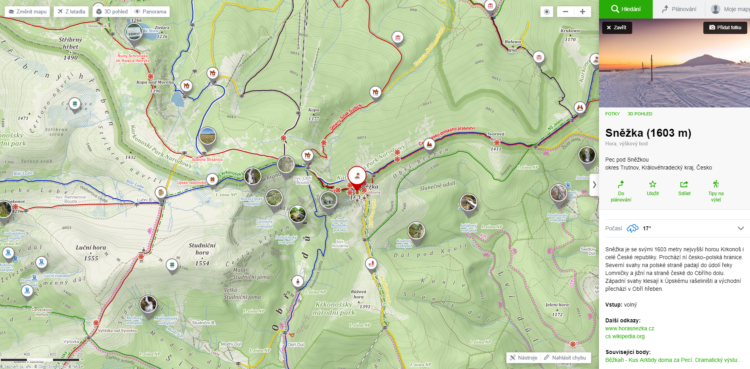 SEO for Seznam – everything for the users
In the Seznam help panel you can find information on how to properly optimize your website. Once again, focus on the users and not the robots. Seznam also follows the general trend towards rating high these subpages whose content has a well-organized heading structure. Titles and meta description should contain phrases that are closely related to the topic of the subpage. The most important keywords should be placed in the URL. As opposed to Yandex and Bing, the meta keywords tag for the Czech alternative to Google doesn't really matter. Think about the usability while creating internal and external links to your website. Being natural and thematically related is what counts the most. Generally speaking, SEO for Seznam is very similar to the activities you conduct when you want to be ranked high in the Google search results. Being active on social media is another positive aspect. Remember to use the Czech language to code your website – other languages aren't recognizable for the Seznam robots.
The S-Rank is a tool that enables to measure the quality of a website in Seznam. The way how it's calculated is kept secret, however, it heavily depends on the quality of the pages that link to your site as well as those to which you link. Each website is rated from 0 to 10 – the higher the number, the better the position in the search results.
Baidu – the leading search engine on the Chinese market
Let's now discuss the market where Google doesn't exist. China is a rather specific country without international giants and it's differentiated in terms of available solutions. Baidu is the leading search engine there – apart from the possibility to browse the Internet, it also offers  an encyclopedia (Wikipedia is blocked for obvious reasons), a news service, maps, a dictionary and several other services essential in the everyday life of a Chinese person.

SEO for Baidu
If you want to conduct any SEO activities for Baidu, you need to prepare high quality texts written in Chinese. Apart from the content of the title and meta description tags, the keywords placed in the meta keywords tag are also taken into consideration.
In terms of protection against spam, keyword stuffing and other not entirely ethical behaviors of SEO specialists, Baidu stays a few years behind its western competitors. The algorithms don't work very well and due to it, the websites using black hat SEO may still be ranked high in the search results. We certainly don't recommend acting like that because probably soon the Chinese will adopt the patterns from the West and one firm update will remove the spam websites once and for all so such activities may turn out to be very harmful in the long run.
Considering the China policy, you need to ensure that your website is located on a Chinese server and a .cn domain if you decide on running SEO and being active on the Chinese Internet. Moreover, your backlinks should also come from a .cn domain. It's advisable to use Simplified Chinese to publish your content – such an approach allows you to plan long term activities. The Chinese Internet is censored which means that links to foreign websites can negatively influence your position in the search results. Additionally, one government decision may effectively block access to websites hosted outside China.
Shenma – the Chinese "mobile-first index"
There is no monopoly on the Chinese market and Shenma is an alternative to Baidu when it comes to mobile search. It facilitates the use of the Internet on smartphones and is a great option for online stores that want to create advertising campaigns targeted at users of mobile devices. Moreover, it's a perfect tool for advertising various mobile applications.
Naver – the Korean alternative to Google
Naver, a local portal with a wide range of services, is a real competition for Google in South Korea. It provides its users with an encyclopedia, a knowledge-sharing service (something similar to Quora), a blog platform and a social network site resembling a discussion group. The search engine actively advertises its own products, therefore the Naver search results display mainly content coming from its own services and only a small percentage of organic search results. Consequently, being ranked high in the Naver's rankings requires a lot of time and patience.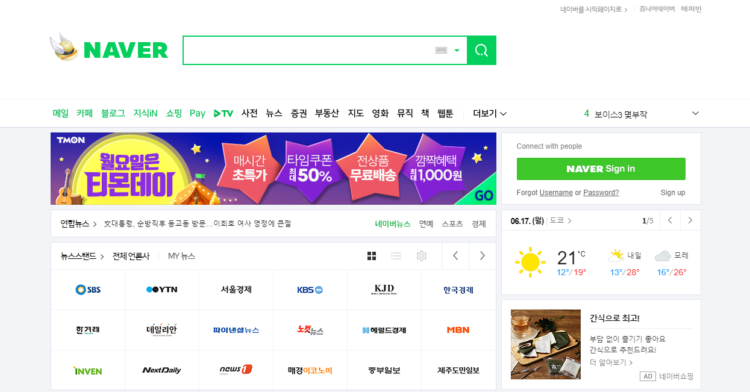 SEO for Naver
The P-Rank algorithm is responsible for assessing the value of a website. It takes into consideration such aspects as accessibility for Navera bots and mobile devices, quality of content and meta tags as well as internal and external linking.
The title and meta description should be even more concise than in the case of Google. A maximum of 40 characters for the title and 80 characters for the page description are recommended. Avoid keyword stuffing – if you do it despite the limited space, you may expect being punished and removed from the search results. The content should be created for the users, with an appropriate heading hierarchy. Your linking must look natural, too many of the same anchor links can result in a punishment. Alternative descriptions to graphics are another very important factor – if they meet the needs and requirements of the users, they'll contribute to achieving a higher position in the search results. Nevertheless, duplicate ALT tags can negatively affect your position. As you can see, SEO for Navar requires a great deal of caution and attention.
Navara pays attention also to the quality of external backlinks to the site. Information about them can be accessed in the webmaster tools, just like in Google Search Console. Obviously, this search engine also appreciates natural activities on social media platforms.
Foreign Search Engines that disappeared
The search engine market is constantly evolving, therefore some of the brands that used to be extremely popular simply disappeared. The AOL Search service can be discussed as an example – since 2016 it's been supported by Bing. America Online was popular among millions of users for many years. Unfortunately, marketing failures of this Internet and content provider have led to a decline in interest and now the company considers changing its name to dissociate itself from the negative connotations of American Internet users.
Ask.com, formerly known as Ask Jeeves is another example. Today, the American search engine popular since 1996, is no longer significant on the market. Many users associate it solely with an annoying toolbar added to the browser during the installation of free software. It was difficult to delete Ask Toolbar and it was changing the default search engine to Ask.com – this is the last but extremely negative memory of this search engine.
Take care of your privacy
The DuckDuckGo search engine discussed above is very popular, however, it's not the only service that puts great emphasis on the users' privacy. Qwant, Swisscows and Gibiru have chosen a similar strategy – they don't collect or store data and limit access to adult content. They don't use advertisements either so as a side effect your search results won't be personalized and the location of the needed services probably won't match the place where you're. But apparently, that's the price you need to pay for privacy on the Internet.
Alternatives to Google – there really are plenty more fish in the sea
There are numerous foreign search engine that are true alternatives to Google, however the services on their offer aren't as well-developed as the ones provided by the international leader. But these search engines can still be used on a daily basis, especially when it comes to the local products such as Yandex, Seznam or Naver. National search engines perfectly meet the requirements of the users from the domestic market. Consider using these solutions when trying to expand on a given market because they'll enable you to get closer to potential customers. In the case of Google's alternatives SEO activities may turn out to be less complicated and the competition on the market isn't as numerous either. Regardless of the search engine you decide to use, meta tags are crucial – their proper optimization increases the chances of being ranked high in the SERPs.
If you know a particular language very well, local search engines will help you to find a lot of interesting facts that aren't considered valuable enough to be displayed in Google. The privacy and security on the Internet are another important aspects but now people who don't want their search engines to send and collect too much personal data can also find services that'll suit their needs.