Table of contents:
What Will You Learn?
What to do if keyword research and data from the tools don't provide you with the necessary information
How to use Google Search Console to find accurate niche keywords used by your target group
How to deal with cannibalization, and turn obstacles into opportunities
Keyword research and the selection of appropriate phrases you'll optimize your website for is a crucial part of every SEO process. It has an impact on the effectiveness of performed activities, attracted recipients, positions in the search results, and visibility of the website. When selecting keywords you want to focus on, it's crucial to look not only at their volume but also at their potential. Don't forget to estimate the value of the traffic generated by these keywords and make sure that they best describe the profile of your business activities and will help you achieve your objectives.
Unfortunately, sometimes, tools aren't enough
to succeed and lack a well-thought-out strategy that will help you reach your goals and improve positions in the SERPs. If this applies to your website, you'll need out-of-the-box solutions. Want to learn how we can tailor the process to your needs? Check our
SEO services
!
Niche Keywords Basics
Let's start by defining what niche keywords actually are. This term is used to talk about
highly specific keywords that focus on a given area of expertise or a specific market sector
.
Niche keywords
usually target particular recipients and aren't that competitive. This means that finding them and optimizing your website for them will allow you to quickly improve your rankings for these keywords. Why? Because there won't be too many websites that will compete with you. What's more, since these are what your target audience is using when searching,
the gathered traffic should be highly valuable
.
Niche Keywords Research - When Is It Crucial?
To help you understand the issue better, we'll illustrate the
niche keywords research process
in the form of a real-life example. Remember that the wider your offer and the less specific problems it solves, the harder it might be for you to choose adequate keywords for the SEO process. Today, we'll discuss the process of researching and collecting niche keyword ideas for our client that offers e-learning, and business services such as online training for managers.
Such business activity should be straightforward, right? Well, the issue that lurks in this area is that similar keywords have multiple meanings and are used almost entirely by students. And students don't constitute the target group of our client.
When Keyword Research Tools Don't Help
Every keyword research process starts with basic SEO tools such as
SEMrush or Ahrefs
.
If you use SEMrush, just enter the "domain overview" section and type in your website URL to see the top organic keywords your page ranks for. What's more, you can also benefit from Keyword Magic Tool to check the volume of specific keywords or their search intent.
If you use Ahrefs, enter the Organic Keywords tab, and provide your website address to see a list of phrases your page ranks for. In this case, you can also obtain information about URLs assigned to specific keywords. Unfortunately, as you can see in the screenshot above, phrases and words displayed by the tool are linked directly to the education sector (the abbreviations next to e-learning stand for different Polish universities) which wouldn't bring any value to our client.
If keywords are used by those who don't belong to your target group, even the longest lists, and elaborate statistics won't give you the information you need to improve your visibility in the organic search results and reach your potential customers.
After all, SEO is not an art for art's sake and we don't aim to gather any traffic but to reach people who might be interested in the offer.
Manual Niche Keywords Research
If tools don't give you keywords that are valuable for your business, it's time for
manual niche keywords research
. Don't worry, it's easier than you think! I'll guide you through the process step-by-step to help you find phrases that are tailor-made for your company. First, type in the phrase that is of interest to you into Google to check out suggestions and related searches. In our case, this would be "e-learning":
As you can see, Google doesn't give us any suggestions that would reflect the business profile of our client. Once again all the results are related to universities and educational platforms. Since you know the characteristics of your business like the back of your hand, you should try to specify the query and manually check phrases such as
e-learning for business, e-learning for companies
, and so on. Such manual verification should be done both in Google (to see other keyword ideas and suggestions) and in the tools (to determine the parameters of the phrases).
Wondering why the data in the screenshots above is in Polish? At Delante, we cater to companies worldwide, with this one being Polish, so we'll continue presenting the SEO process based on the Polish keywords and relevant data from Google Search Console. Because we wanted to highlight niche keywords research on this specific example, we haven't researched English data in this instance, as it wouldn't bring us any tangible results. Nevertheless, it's crucial to mention that the process itself doesn't have any limitations (the sky's the limit, right?). So, below we'll show you such an analysis for a US business. It turns out that it looks pretty similar.
Gathering Real-Life Data
Once you have selected your niche keywords and you know that they have the potential for your business,
it's time to modify and specify them.
In this step, you should change generic keywords like
e-learning
to more precise long-tails like
e-learning for companies
. Next, you should saturate your website with these phrases to show both Google and users that these are the elements they should pay attention to. When the changes are implemented, you can wait a few days and analyze your website visibility in the Google Search Console. Does your page display different keywords? What's the volume of these keywords? Maybe GSC will start showing you data and phrases that weren't visible in tools such as SEMrush?
As mentioned above, generic keywords like
e-learning
aren't of interest to us, even though they have a huge volume and lots of impressions. Such keywords refer mainly to the education sector, so they have nothing to do with the offer of our client. However, we can use more specific long-tails like
e-learning dla firm
(e-learning for business), or
platforma e-learningowa dla firm
(e-learning business platform). Questions like
platforma e-learningowa co to jest
(e-learning platform what is it) are also valuable because our client can use them to create comprehensive blog content that resolves users' doubts and promotes the offer at the same time.
At this point, it's also worth mentioning that
tools like Ahrefs or SEMrush show only estimated data
. Let's take our phrase
platforma e-learningowa dla firm (e-learning platform for companies)
as an example. SEMrush states that its volume is 10, whereas GSC tells us that the phrase was displayed 155 times in the last three months. This indicates that its search volume should be around 50 (155/3). If you don't want to fully rely on the data from paid tools, we can show you how to check volume in the Google Search Console. Once you log in, check the
Performance
tab on the left:
Then, choose a time range that is of interest to you. If you want to get a comprehensive understanding, choose
sixteen or at least twelve months
as this will help you see phrase seasonality and trends over time. Finally, click
+ New
, choose the
Exact URL
from the unfolding menu and provide the exact address of the page you want to check. Click
Apply
and you'll see data concerning keywords, clicks, and impressions.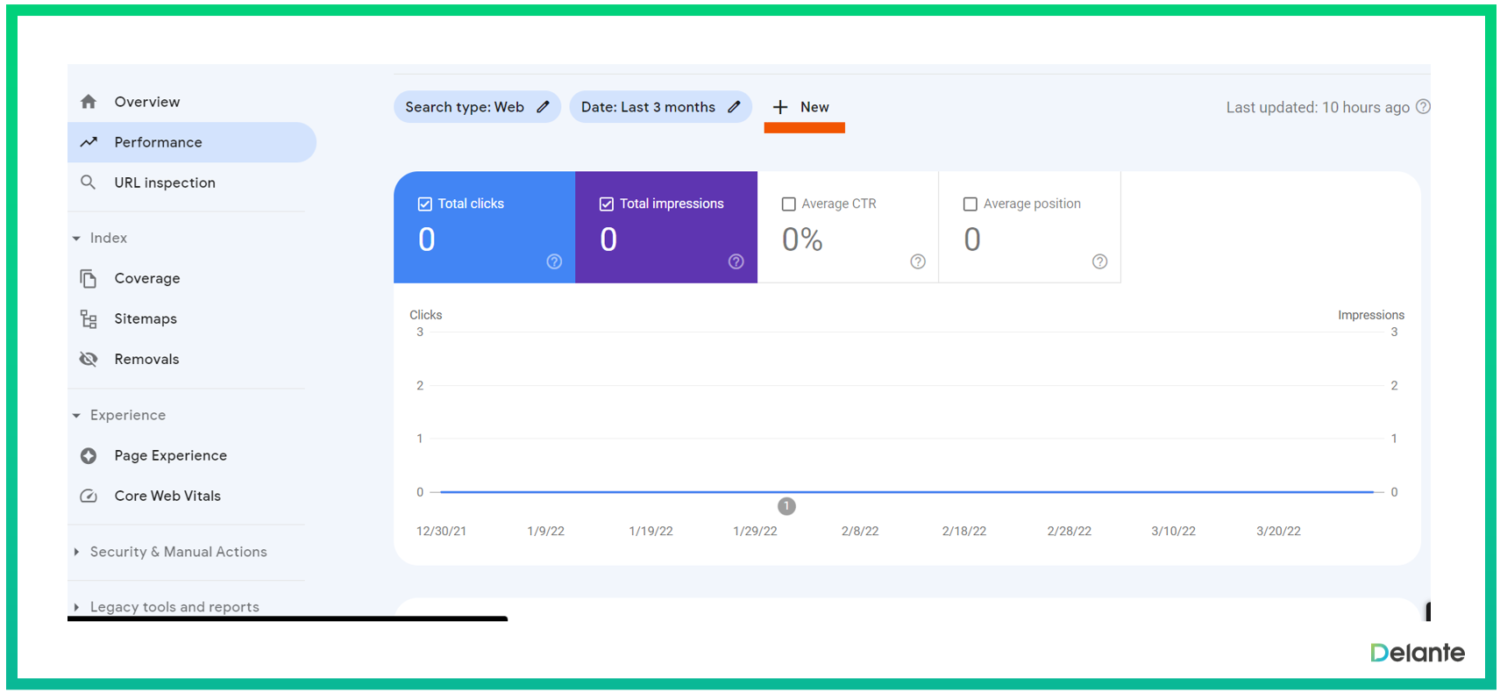 As we can see, it's a valuable source of information that helps you discover the untapped potential of your website and
choose valuable
niche keywords for the SEO process
.
Putting Niche Keywords to Use
Based on the analysis described in the previous section, you can prepare a list of
niche keywords
and long-tails that are likely to generate valuable traffic to your website
.
When selecting phrases for your page, make sure that they correspond to your business profile and objectives. Impressions and clicks aren't enough.
In the case of our client, these phrases had to be closely related to business e-learning platforms, and e-learning training for companies, not individual students. Remember that the process doesn't end here. Why? Because you have to regularly monitor the data, optimize your existing content and create new, valuable pieces of text that will help you further improve your visibility and expand the number of keywords displayed on your page.
Try, Learn, Repeat
It's important to mention that
niche keywords research differs from traditional methods
. In the latter case, clients can prepare texts and then optimize them before publication. Unfortunately, such an approach won't work with out-of-the-box solutions. If you operate in the niche industry, you should create
valuable content saturated with long-tails
. However, you shouldn't optimize it right away. Instead, you should utilize the described process - publish the text and wait till you can obtain reliable, real-life data from the Google Search Console. Based on this data, you should choose niche keywords you can optimize the page for.
Don't Fall Into the Cannibalization Trap
The truth is that the more content on your page, the higher the risk of
keyword cannibalization
.
The risk is even greater if you operate in a niche industry utilizing
niche keywords
. In such a case we can safely assume that the number of potential keywords would not be high, increasing the chance of utilizing the same keywords on a few pages. But first things first - what is cannibalization? In a nutshell, this happens when two or more pages on your website are optimized and rank for the same keyword. As you may guess, such a situation can confuse Google robots because they may not be able to tell which page best corresponds to user queries and should be displayed higher in the search results.
Cannibalization is a Serious Mistake That Has a Negative Impact on the SEO Process.
When analyzing the website of our client we found out that there were
multiple cases of keyword cannibalization.
The page was saturated with content and there were numerous offer pages and a blog. Consequently, we had to find a solution to the problem, at the same time ensuring that the content still conveyed the intended meaning. What made it harder than usual, is the fact that keyword research tools were of no help when looking for additional KW we might use, due to the reasons described above. So what can be done in such a scenario, apart from ensuring that one topic is covered by one page only? In this scenario, we decided to
saturate the page with synonyms
. Apart from helping us to fight keyword cannibalization, this step allowed us to expand the list of keywords the page ranks for. Need an example? In Polish, verbs like
gamifikacja
and
grywalizacja
(gamification) can be used interchangeably. Using different words to describe similar concepts prevents keyword cannibalization and makes the text more natural.
Although all the above pages are thematically related,
using synonyms to describe them helped us to avoid keyword cannibalization
. Consequently, only one page ranks for the keyword
grywalizacja
which was our objective.
Using Niche Keywords in Topic Clusters Help Reaching New Heights
Topic clusters
have been gaining increasing importance in the SEO world. They're used to build
collections of content discussing specific topics
. Thanks to them, you can position yourself as an expert in the field, provide users with answers to all their questions, and keep them on the website for longer. And the niche keywords discovered in the process above can help with that as well.
Implementing topic clusters shows Google that you know a lot about a given topic. For search engine robots, it's a sign that your page should be ranked high for specific keywords as you have high authority in the field.
When should you implement topic clusters?
If you already have a lot of valuable content and are willing to create more
If your service or offer pages are pillar pages
How can you do it? First, select related pages in GSC. Choose all subpages that are displayed for the main keywords (even if they don't generate significant traffic). Why should you do it?
Because Google considers them to be thematically related
. That's the first moment when your niche keywords can shine -  these can be used as the main KW on the pillar page. Then, move on to preparing thematic clusters and content ideas that will help you organize your work:
Apart from listing your thematic clusters, make sure to mark important information concerning their optimization (is the existing content optimized, or do you have to do it?), and role for your business.
When preparing a list of tasks that should be performed as a priority, analyze your business needs and objectives.
If a given cluster works well the way it is, it's a sign that you should start with creating, or optimizing content for cluster pages that don't bring you any traffic or benefits. How can you optimize topic clusters? We can look at it from 2 angles -
keyword optimization and linking
. The first, as you probably guess, is another moment when you can utilize the
niche keywords
. Select adequate keywords based on data from Google Search Console and saturate the content with them. When it comes to linking, remember that each of the Topic Cluster subpages, whether that's a blog post, case study, testimonial, or anything else,
should link to the pillar page
. Additionally, it's worth adding some links between the cluster pages.
Remember! The size and content of topic clusters matter.
For this reason, cluster pages that don't cover the entire topic should be complemented with new content to ensure that they discuss a given subject, or issue in detail.
Effects of Tailor-Made Niche Keyword Research Process
It's important to mention that every website requires an individual approach. In SEO, solutions that work on one page may be completely ineffective on another. That's why clients and industries such as the one discussed in today's entry
require a custom strategy tailored to their business profile and needs
. Quality niche keywords research combined with a custom strategy allowed us to increase the visibility of our client, reach the target group, boost website impressions and generate valuable website traffic. It's the whole nine yards, isn't it? The results:
The clicks of one of the thematic clusters:
The described process launched in January, and we hope to observe even greater visibility and traffic growth in the near future.
What Should You Remember About?
SEO is a complex process that frequently requires unusual and creative solutions. If you have a hard time finding the right keywords that reflect your business profile,
it's a sign that you should think about niche keywords research
. Although available tools usually come to the rescue, there are situations and industries where they actually don't serve their purpose. Finding valuable niche keywords that bring traffic to your website and help you reach business goals isn't a piece of cake, but the juice is certainly worth the squeeze. If you aren't sure how to complete the steps mentioned in this article,
contact our experts
. We'll be more than happy to assist you. At Delante, we approach every client individually and we'll find a solution tailored to your needs!
Special thanks to Kasia for putting Wojciech's techy-SEO thoughts into such a well-written and friendly form!
Kasia Smoleń
Junior SEO Specialist