Today I'm going to share with you some marketing trends that I've been noticing this year which will probably stay with us longer. If you are a business owner or you work in marketing these are the trends you should follow.
Watch the video, or read the transcription below: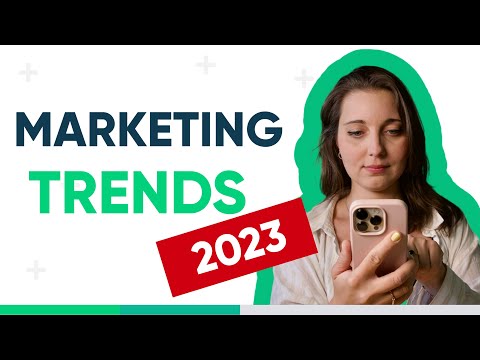 Marketing Trends 2023
Agile Marketing
Firstly, the planning and management style has changed to agile marketing. Agile marketing comes from agile methodology, which is a way of working in shorter and more rapid cycles rather than on big and well-planned projects.
It's a consequence of ever changing environment that we are living in which is pushing us to change our strategies quite often. So, we have to be able to do that. I'm not saying that you should forget about yearly plans or building roadmaps; I'm saying that you should be ready to change your plans or to change your strategies because the environment is changing quite quickly and you need to keep up with it.
Video Marketing
The second trend that has already been with us for quite a long is video marketing. But right now, this video marketing will focus more on short forms such as TikToks, reels, or shorts on YouTube.
According to the survey run by HubSpot, 90% of marketers who are already investing in video marketing are planning to invest even more in short-term video or maintain the same level of investment. 21% of marketers are planning to start investing in short-form videos.
The ROI of short-term videos is showing us that it's worth it. It's also easier and way cheaper to create short-form videos which aligns with the short attention spans of the audience these days.
Omnichannel Marketing
One of the most important marketing trends of this year is omnichannel marketing. Omnichannel is a strategy that aims to deliver an integrated experience across all marketing channels. It aims to build a strong relationship with the client that has different touch points with the company.
You can achieve it by personalizing your communication and using data to reach the right people with the right message in the right place. Remember to convey the same message on different channels such as your website, social media, or offline if you are running offline marketing.
It is also important to deliver the same message across different devices. I'm talking, of course, about cross-device marketing.
Cross-Device Marketing
In 2020, Statista reported that mobile devices accounted for 50 percent of website traffic, which proves the importance of mobile SEO, mobile UX, and accessibility of the website. Don't forget that the website is only one of the online channels that you are using to reach your customers.
If you are sending emails or newsletters, make sure that these are also adapted to mobile devices and that they are delivering a good experience to the readers. With Millennials and Gen Z audiences growing and increasing their buying power, these omnichannel and cross-mobile devices will become more and more important every day.
Interactive Marketing
The next trend I've been noticing for a long time already is interactive marketing and interactive content. You might have seen it already without even realizing it. Any quiz, game, or interactive infographic is a way to engage your customers with the content.
Quite a few of the customer interactions with the brands are happening via chatbots using AI. Conversational marketing is a great way to make communication even more personal.
Another level of interactive content is using VR or AR in your marketing strategy. Apps and tools that are using these technologies are becoming more and more popular. I'm sure even you have one on your smartphone right now. Apps like Ikea Place, Amy Casa, or any application for makeup stylists are making the customer experience even more personal.
Social media like Snapchat and Instagram familiarized us with augmented reality with their filters and companies are using it for their benefit right now.
SEO
I wouldn't say that SEO is a  trend, per se, but it's a constant thing in the world of digital marketing. 70% of marketers, according to HubSpot, are investing in SEO and organic channel is still the main source of traffic to the websites.
In 2023 it's important to focus on audience-targeted content, not necessarily bot-targeted content. Giving your audience value and answering their questions is a key to SEO right now.
You shouldn't also forget about additional E in EAT. So right now, it's EEAT, which is experience, expertise, authority, and trust. Author and content authority is becoming more and more important for every industry, not only for Your Money Your Life sites.
I have to mention AI, which is becoming a crucial part of SEO operations. It won't, of course,  replace a human factor in an SEO process, but it will help in content creation, keyword research, or link-building activities.
If you want to learn more about how to use AI for keyword research check out our blog. Przemek, our Senior SEO specialist, wrote an amazing article about it with examples of how we use AI in our work.
Offline Events
The last trends that I'm going to talk about today are offline events and live streams. Luckily, after COVID, we are able to attend live events again and I encourage you to do it because it's very efficient for marketing. While organizing an event is a bit more difficult, attending one is a must-do this year. There are many events happening around the globe.
Going back to marketing activities connected to events, networking during conferences is an amazing way to get to know your potential customers, prospects, or partners. To promote your brand you can become a speaker or a sponsor of an event. Q3 is actually packed with good events. But before choosing one, make sure that your target audience or potential partners will be there.
Summary
These are all trends that you should follow in 2023 and beyond:
Agile marketing.
Video marketing.
Omnichannel and cross-device marketing.
Interactive content and interactive marketing.
SEO.
Event marketing and live streaming.
Remember that marketing trends should be aligned with the current situation in the world. As we all know, we are in a recession right now, so if you want to know more about marketing strategies in a recession, check out this article  – Market Recession 2023  Tips from a Marketing Team Leader