Profile of the manufacturing industry
All businesses specializing in producing goods are part of the manufacturing industry. Obviously, they may differ in various areas, such as production methods or the type of manufactured goods. Consequently, we can find a unit, serial, and mass production companies. Recently,
this sector
of the economy has
increased significantly,
and everything indicates that
it'll continue developing at an even faster pace
over the next few years.
SEO for a manufacturing company website
Due to the fact that this industry is constantly expanding,
it's necessary to keep in mind the competitiveness of particular fields.
Consequently, it's worth spending some time devising an effective marketing strategy that will make your business stand out from the crowd.
Google is one of the most effective channels for reaching new potential customers
. SEO activities should be appropriately tailored to the type of your company website. Doing the SEO process for an online store will be completely different from doing the SEO process for websites playing the company's business cards.

SEO for online stores
The selection of appropriate keywords
is the
key element of every SEO process
. And this is also the point where you should start
doing SEO for a manufacturing company website
. It's advisable to try to determine the target group you want to reach. If you
aim at attracting new B2C customers
, it's worth finding phrases entered into the search engine by users looking for your products. If your website is relatively new, keywords shouldn't be particularly complex at the beginning. At this point, it's mainly about competitiveness, meaning the number of websites that do SEO for a given word. This will allow you to increase your page visibility more effectively and efficiently.
Long tails
, which are specific queries consisting of several words, are also a great solution. These key phrases are usually used by people searching for specific products, therefore, with their help, you can effectively
improve the number and quality of your conversions.
[caption id="attachment_33578" align="aligncenter" width="750"]
Exemplary long tails, Senuto[/caption] There are many tools that enable finding keywords with the finest parameters.
If your company starts being recognizable online
, it's worth beginning the SEO process that
focuses on the brand
. Select keywords that include the name of your company, such as
natural cosmetics + brand.
[caption id="attachment_33580" align="aligncenter" width="750"]
Exemplary brand phrases[/caption] The
improvement of your website authority and power will certainly increase your visibility in the SERPs
. In this case, you can do SEO for more competitive keywords matching your product categories. Most frequently, they
include general words whose search volume in a given month is very high
. This, in turn, makes these keywords much more demanding but, at the same time, may increase website traffic even by several hundred percent. [caption id="attachment_33582" align="aligncenter" width="750"]
Exemplary phrases with high search volume, Ubersuggest[/caption] When
selecting keywords for B2B customers
, it's a good idea to go for phrases consisting of
product name + manufacturer
. This guarantees that your offer will reach the right recipients. [caption id="attachment_33584" align="aligncenter" width="750"]
Exemplary high search volume phrases with the word "manufacturer," Ubersuggest[/caption]
Doing SEO for websites functioning as the company's business cards
If you don't want to run an online store
, it's a good idea to
set up a website that will be your company's business card
. In this case, it's crucial to
focus on presenting your products and brand in the finest possible way
. Consider developing a website with various subpages as the one-page version may not be beneficial for the SEO process. In this scenario, the SEO process also revolves around
choosing appropriate keywords that match the target group and different sales sectors
. Company business cards frequently refer to the local industry. So if you want to reach people from a selected area,
it's worth taking advantage of local SEO
and appropriate keywords with the name of a selected location/region. [caption id="attachment_33586" align="aligncenter" width="520"]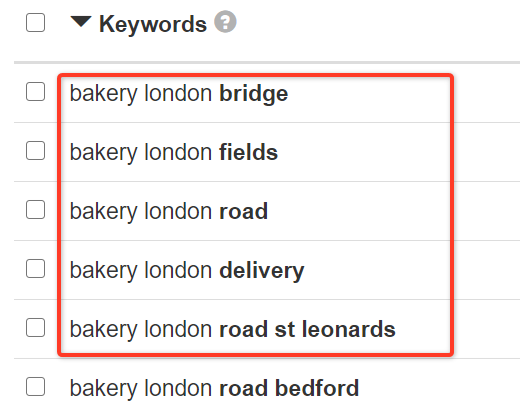 Exemplary local keywords, Keywordtool.io[/caption] Very frequently, websites functioning as the company's business cards offer
manufacturer's catalogs in the pdf format
 instead of traditional product lists. When monitoring changes in Google, it's possible to notice that
documents with such extensions are also indexed, therefore, it's worth making sure that they're properly optimized
. The most important issues are the right name, friendly URL, small size, and pdf file responsiveness. Doing SEO for e-commerce and business card websites may not bring the intended results if you don't ensure their proper technical optimization.
Content marketing in the manufacturing industry
It's best to place the abovementioned
keywords
in
quality and unique texts published on the website.
Due to the fact that the manufacturing industry is about products, it's necessary to provide
relevant product and category descriptions
. Make sure that you don't have any internal or external duplicate content. Website content should include all necessary information concerning the offered product range.
Setting up a company blog
with industry tips or articles discussing your offer is another beneficial solution. This way, you'll provide users with the necessary information and improve their engagement. A
company blog
may also make you a real expert in the field. Don't limit yourself only to posts.
Tutorials or promotional videos are also an excellent way to attract more website traffic.
Each text published on your page should be properly optimized. Take care of:
Unique subpage titles and descriptions with keywords.
H1-H3 headers appropriately placed in the content.
Bold and italics used to highlight keywords or important information on a given subpage.
Size and alternative photo descriptions - optimize the weight of graphics and complement them with alternative descriptions.
Internal linking - provide links to other subpages to facilitate website navigation.
These are key factors precious for both users and Google robots. After implementing all of the abovementioned tips, it's possible to be ranked high for specific keywords. Remember to perform content marketing activities also on your
social media
profiles. They're a perfect place for
building relationships with customers and improving external linking even more.
Inform about new blog entries, products, or changes in your company. It's crucial to select an appropriate strategy that will attract the attention of potential buyers.
Offsite activities
External linking
Link building is another important part of the SEO process.
Obtaining links from external websites is one of the ranking factors.
Therefore, if you want to improve your online store or website's position as a company's business card,
select sources with high domain authority
. The
subject matter
itself is another relevant issue—link from websites that discuss similar topics related to your industry. If you do local SEO, choose pages from your region. The links themselves need to appear on external domains
very naturally
. They should be diversified in terms of anchor/clean link and dofollow/nofollow tags.
Remember not to link from the same website.
The more links from valuable domains, the better. It's a good idea to obtain links from:
company directories,
sponsored articles on industry portals,
guest posts on other blogs,
forums,
business partner websites,
advertisements,
social media.
Competitor analysis
is a great method of obtaining valuable linking domains. Check how other companies in the industry obtain links to their websites. To learn more about monitoring your market rivals, see our article:
https://delante.co/keep-an-eye-on-your-competition/
Google My Business listing
With its use, you can mark your office, store, or company on the map.
This is particularly important for manufacturing businesses because it facilitates contact with distributors or local customers.
The listing contains a company description, reviews, opening hours, and photos. Think about implementing this solution to inspire customer trust and improve your brand recognition.
The take-home message
The number of manufacturing companies is constantly increasing, which translates into greater competitiveness of selected sales markets. A proper marketing strategy will help you stand out from the crowd. If you want to outdo your market rivals, monitor their actions, and respond to your customers' needs. Appropriate
SEO activities
will allow you to reach your manufacturing target group most efficiently.