Table of Contents:
Top SEO Trends in 2021 Every Marketer Should Know
1. Long-Form Content
Google really loves high-quality content and values above all those sites that have top-notch unique content which response to users' needs and expectations. But there is
one thing about your content you must pay special attention to in 2021 - focus on long-form content.
Different surveys show that the longer the content, the greater the chance for high positions in organic search results. Let's take, for example, a study conducted by Orbit Media, which showed that the average length of a blog post in 2020 was 1269 words. For comparison, in 2014 it was just 808 words. That's quite a big change, right? What's more, the same study brought other interesting conclusions:
bloggers who create blog posts longer than 3000 words get strong results,
year after year, users spend more time reading long-form content: in 2020 the average blog post took 3 minutes and 55 seconds to read,
how-to articles are the most popular type of blog content (77% of bloggers admit they incorporate how-to articles into their content marketing strategies).
[caption id="attachment_36918" align="aligncenter" width="602"]
source:
orbitmedia.com
[/caption] In turn, according to
HubSpot
, the perfect length of blog posts is around 2500 words. You need to find your sweet spot to figure out how long should the content on your blog be to improve your SERPs. However, keep in mind that not only the quantity but also the quality (and the appropriate optimization) of the content matters. Read my
content marketing guide
as well - I hope you will find some inspirations there to include in your content marketing strategies for 2021.
2. Mobile-Friendliness
Do you want to achieve great success with your SEO strategies and make Google fully appreciate your website? In this case, mobile SEO is something you absolutely shouldn't neglect. And yes, I know, mobile-friendliness is nothing new, it has been shaking the SEO world for some time now, especially since in 2019 Google decided to analyze mobile versions of websites as the primary ones. But the future will be even more mobile than it is now! Look at this chart comparing mobile, desktop, and tablet market share worldwide in the last 5 years which shows that mobile traffic is becoming more and more powerful: [caption id="attachment_36920" align="aligncenter" width="602"]
Desktop vs mobile vs tablet market share worldwide in the last 5 years; source:
gs.statcounter.com
[/caption] Google considers mobile versions as the main ones and that's why the search engine has been preparing for mobile-first indexing for years. Initially,
Google planned to enable mobile-first indexing for all websites from 2020, however, due to the pandemic and the global crisis, Google webmasters decided to postpone it until March 2021.
So, mobile-first indexing soon will be a reality and most likely this all-changing moment will happen in 2021. If you still haven't optimized your website for mobile devices, you have no time to waste. I have prepared for you a
mobile SEO guide
, which I hope will make this process easier.
3. Core Web Vitals & Page Experience
Google wants all users to have a very enjoyable page experience and to be able to find all necessary information quickly and easily. For this reason, in May 2020 this search engine introduced
Core Web Vitals
. We've already described them on our blog, but it's worth reminding what they actually consist of and what they relate to. So, in a nutshell, Core Web Vitals are metrics that are intended to provide the best page experience possible and take three specific aspects into account: page loading speed, interactivity, and visual stability.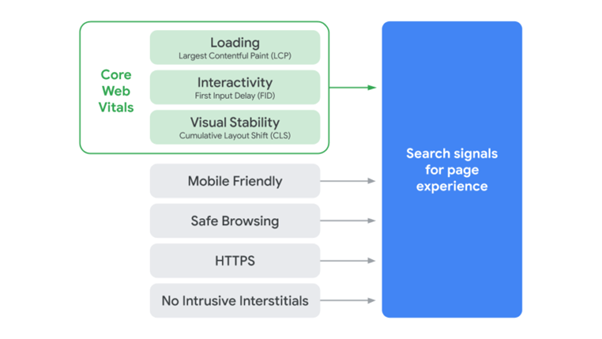 The three most important aspects analyzed by this algorithm are:
Largest Contentful Paint (LCP) - monitors the exact time it takes for the most important elements on the website to be loaded,
First Input Delay (FID) - the time from the first user interaction with the site to the browser response,
Cumulative Layout Shift (CLS) - measures all changes in the page layout (e.g. when a given element changes its position) during the user's visit.
Other important aspects you need to optimize to provide the ultimate page experience:
mobile-friendliness - every page should be optimized for mobile devices (above, I explained it in more details);
safe browsing - every page should be fully secure to protect data;
no intrusive interstitials - websites with pop-ups that hide the content and make it difficult to reach it will be penalized.
If you would like to verify all the issues connected with Core Web Vitals, you will find all the necessary information in your Google Search Console account:
4. Search Intent
Have you ever heard of BERT? This Google algorithm, which took its name from  Bidirectional Encoder Representations from Transformers, changed the way this search engine shows search results for a specific query.
Search intent has been a burning issue for some time now, but currently, it is more important than ever before
. And what exactly does this term mean? The search engine has introduced very sophisticated algorithms based on machine learning and artificial intelligence, making the search results most suitable for the user's intention and delivering the most suitable content. As Google wants to tailor search results as well as possible to the needs and expectations of its users, it is the BERT algorithm that helps to achieve that. To understand how the search intent works in practice, let's take a look at this example:
After typing in the following query: "email invention", Google immediately understood that I wanted to find out who invented the email or when it happened. And that's exactly what I got!
How to optimize your content with the search intent in mind?
When creating content, a featured snippet is something you should never ignore so include the elements that Google may turn into a list and show it in featured snippets. It is also a good idea to
add a FAQ section
or include some key elements in the schema.
5. Local Search
2020 has significantly changed our lives. I guess none of us have any doubts about that.
The past year has also impacted our online activity and increased the importance of local SEO
. The coronavirus pandemic resulted in the global economic crisis, so many of us turned our attention to supporting local businesses and helping them. What is more, in 2020, the international transportation of orders has become more challenging and, in some cases, impossible, and this has also encouraged people to make most of their purchases locally. So I guess I don't have to convince you more than in 2021 local SEO will also be a must.
How to prepare your business for local SEO in 2021?
When optimizing your website, you need to keep these things in mind:
Google My Business - include all the relevant information about your business and update them when necessary,
conduct keyword research and find local keywords that have the greatest potential to boost web traffic,
implement keywords on-page: in the title tag, meta description, URL, alt text, headings,
build a strong backlink profile.
6. Featured Snippets & Zero-Click Searches
Google wants to provide users with search results that best meet their expectations so that they can quickly and easily find the right answer to their queries. That is why the search engine created something called a
position zero
. i.e. the search result which appears at the very top of the first page in Google. And believe me -
it is actually worth putting your website in position zero
. That's even better the #1 position and gets way more clicks! How the position zero looks like? Here's an example:
If you want your website to appear in position zero, here are some rules you need to follow:
select keywords that have the greatest opportunity to appear in position zero,
create top-class content for your website,
make sure your website is correctly optimized (remember about title tags, meta description, heading structure, HTML emphasis tags such as <strong> or <em> and provide internal linking),
don't neglect off-page SEO.
But… if you want to climb to the top of the search results, there is one particular thing that can help you achieve that - structured data (also known as schema)! Schema are tags that you can implement in the HTML code to indicate the search engine categories of particular elements on your website. With structured data, Google crawlers will interpret your content more accurately. There are literally dozens of tags you can add. They may be related to your:
and many others types of content…
If you want to check if your schema is correctly implemented, just run the
Structured Data Testing Tool
provided by Google and you will get all the necessary information:
In 2021 featured snippets will be even more prominent, Google simply loves well-structured websites that clearly indicate the meaning of particular elements, so try to introduce structured data, and who knows... maybe you'll appear in featured snippets or the position zero!
7. Voice Search
Voice search is no longer a distant future as many of us already use voice search on a daily basis, and it works quite well. Owing to various highly sophisticated innovations such as Google Assistant, Amazon's Alexa or Apple's Siri, more and more users around the world choose voice search. It is simply faster, more convenient and has recently become so much better and way more efficient. As Google reports, in 2018,
27%
of mobile users worldwide were already using voice search, and this upward trend is still continuing. Moreover, it is estimated that in 2022,
55%
of American households will have a smart speaker. All this shows that in 2021 you need to focus on
voice search optimization
, as more and more users, especially on mobile devices, use voice commands to find websites. How to optimize your content for voice search? Here are some rules to drive your website to success:
provide a FAQ section for your pages,
create long form content,
use conversational keywords,
optimize your website for mobile devices,
implement structured data,
improve page loading speed.

8. Visual Search
The visual search may not yet be as widely used as voice search, but it is evolving drastically and becoming more powerful. It turns out that many users are already using visual search - as many as
36%
of Americans have declared that at least online they have performed or user a search by images. So we can assume that over time more and more people will choose visual search and Google wants to be fully prepared for it. You don't believe me? Just try
Google Lens
, an image recognition app!
Google declares that it can detect over 1 billion objects and recognize text (and translate it!) as well.
This innovative system is becoming more sophisticated and efficient, no wonder that millions of users around the world are already choosing this search option.
The visual search may turn out to be one of the most influential SEO trends in 2021 that you absolutely shouldn't neglect.
If you would like to learn more on
searching with pictures in Google Images
, we have prepared a comprehensive guide for you!
9. E-A-T
For many years backlinks have been the main factor that Google took into account when assessing the quality of websites. Times have changed and today this search engine evaluates websites based on Expertise, Authority, and Trustworthiness (also known as E-A-T) and they play a critical role in your ranking success.
These metrics apply, above all, to websites that fall into the
YMYL
("Your Money, Your Life") category which contain content that may affect the user's life, happiness, and safety. So if you run your business in the financial, health care, and e-commerce sector, your website definitely should meet the E-A-T criteria. How to achieve that? Just follow these rules and Google will definitely value your content:
create user personas and adjust your content to them,
find keywords that meet users' search intent,
create high quality expertise content,
make sure your content is published regularly (at least a few times a month),
use different types of content, such as infographics, videos, images, etc.
Conclusions
Above, I presented
9 SEO trends, which you should definitely follow in 2021
. Just remember: SEO is constantly evolving, so you really need to follow these changes and adjust your website to the latest Google's guidelines. Only this way your website will take full advantage of the immense power of SEO, will achieve great success in the search results and will be valued not only by Google, but also by users. So are you ready to step into 2021? If you are looking for a professional SEO agency which will prepare for your website a long-term SEO strategy that will meet the latest Google's requirements, be sure to
contact us
. Let our SEO specialists be your partner on the road to success!