Let me start by telling you this: For website migration to be successful, it must be executed carefully and strategically.
I know that sometimes you're forced to move your website to another CMS because that's the only sensible way to improve your website's performance, enhance functionality or update the website's design. The risk of failure shouldn't deter you from seizing this huge business opportunity, which website migration undoubtedly helps you achieve. Keep in mind though that this is an incredibly complex process. Trust me, even a slight slip-up may result in sudden visibility drops – you'd rather avoid that, right?
How to avoid a drop in visibility after a website migration? To me, there is one thing to bear in mind:
Sudden visibility drops are the consequences of migrating the website with no plan and little-to-no SEO knowledge.
To help you understand the complexity of website migration, allow me to draw an analogy:
website migration is akin to moving to a new house
What makes those two processes similar?
First, you should have a really good reason to move; e.g. you need more space, want a better location, or lower upkeep costs.
Second, you need to plan ahead and prepare a checklist of all the steps you need to take before, during, and after the move.
Third, you need to pack all your stuff (do a website backup) and label it to prevent losing or damaging things (e.g. internal linking, schema, page titles/meta descriptions).
Fourth, you need to inform your friends and family (users) about the new address. This also includes updating your documents (online accounts and business profiles) accordingly.
Fifth, before you move in for good, you need to check if the new house (CMS/website) works properly. If you happen to find some broken elements, fix them at the first available moment, or else you may be in big trouble. Just like my Client was.
Keep up with me, carry on reading this website migration case study, and you'll learn:
the most common reasons for sudden visibility loss caused by website migration
how to retrieve as much information as possible if no website backup was created
how to recover old Page Titles and H1s having no access to your old website
how to compare old and new Page Titles and H1 collectively to spot changes
when bringing old website elements, such as Page Titles, back makes sense
To ensure a successful migration, you need to be aware of the SEO-related elements this process has an impact on. Only in this way, can you take the right steps, making the transition run smoothly and effectively. What SEO-related elements am I talking about? Website migration requires you to:
☑️ create a website backup
☑️ audit your existing website
☑️ make an inventory of your old URLs
☑️ crawl your old website
☑️ create a 301 redirection map
☑️ update your internal and external links
☑️ update your sitemap
☑️ update your robots.txt file
☑️ update your analytics and tracking codes
Trust me, these are just a few of the absolutely essential steps for SEO website migration. Sometimes skipping just one element may be disastrous in consequences. In most cases, it leads to massive drops in visibility. How to make sure you do absolutely everything to prevent this bad scenario from happening?
Being aware of the risks involved in website migration can help you make more informed decisions. It allows you to prepare adequately, thus avoiding potential problems. You may consider reading Website Migration – How to Prevent a Disaster as this article gives you the insight you need.
My advice would be to simply partner with an SEO specialist. Being in touch with a professional who has executed a number of website migrations saves you time, money, and all the hassle this complex transition process entails. If you want to minimize the risk and avoid common pitfalls that are extremely likely to harm your SEO, you simply need to have someone experienced on your side.
What May Happen If You
Exclude an SEO from the Website Migration Process?
Most probably your impressions and the click-through rate will plummet. Just like it happened to my Client. Naturally, he isn't the only online business owner I worked with who completely unintendedly brought such misfortune upon himself – or rather upon his website.
From what I've noticed, it's a pretty common thing for an "SEO-less" team not to take a few absolutely fundamental steps that end up harming their website ranks. For example, they don't create URL mapping that redirects their old URLs to the new ones using 301 permanent redirects. Omitting this step results in the following: Search engines aren't "notified" that your old pages have been moved to a new location. Result? Your website index becomes useless.
That's not all. Those old URLs will lead your visitors to broken pages/links, gradually making your website extremely annoying for your visitors to browse. Sounds bad, but you know what? That's not even the worst part. The money you spent on link building is just blown away. Thrown down the drain. Burned.
Another common misstep that most "SEO-less" teams make is forgetting to create a website backup. Doing so is essential in case you need to restore your old site when something goes off track during the migration process. This way you protect yourself against data loss which – let's be honest – is terrible.
Also, with an old website backup at hand, you're able to check what used to work well on your site. You can compare both websites to identify the wrongdoers – the elements that had changed and led up to the visibility drops.
So, let's analyze my Client website migration case study and see what slip-ups and oversights could have been avoided. I'm also going to teach you not only how to escape unharmed in case you're in a similar situation but also how to make website visibility 3 times higher than prior to migration.
Find out how we helped our client from the fall protection equipment industry with a smooth migration and increased visibility by 70%!
Learn more
Website Migration Case Study –
The Starting Point
To help you understand the scale of a problem, there are a few things I need to tell you about. Let's treat them as our "relevant known values."
First known value: My Client reached out to Delante after migrating the website. This means I had no control over the process whatsoever.
Another known value: The migration itself was huge. The Client decided to change the website layout and CMS, which means that all URLs and templates changed as well.
Yet another known value: The Client hadn't created a website architecture backup. This means there was no quick way for me to check which website elements had been changed. No Page Title, no Meta Description, no H1, and no piece of content had its copy, which appeared to be a big problem – I'll touch on that in a second.
Okay, that's one thing. Now, let's take a look at the below graph showing the massive website visibility drop: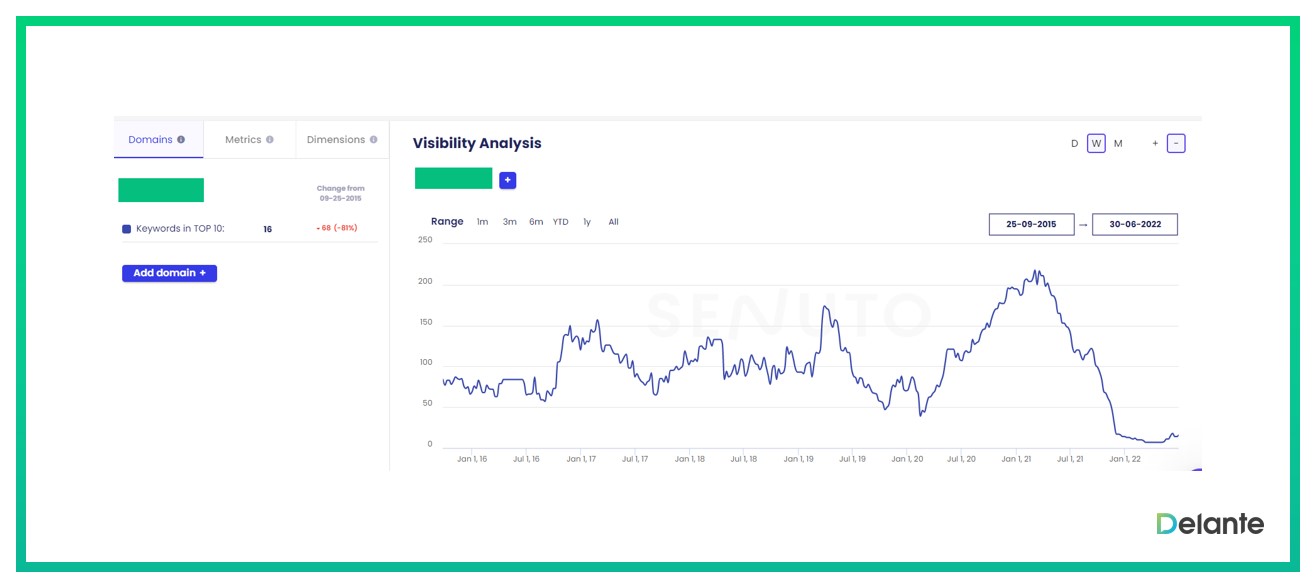 Having the "relevant known values", I had to search for the "unknown values," which in this very case boiled down to finding the cause of the plummet. I knew that when I localize the main culprits, I'd be able to snap the website back from this horrible downward trend.
Website Migration Case Study –
Causes of Visibility Loss
There are two common causes of sudden visibility drops following website migration. These include #1 the unjustified changes made to the content that was previously performing well on the old website, as well as #2 no URL redirects. Why is the latter so important? Simply because they pass the ranking power from the old pages to the new pages.
In my Client's case, I was almost 100% sure that since the CMS had been changed, the URL structure must have changed as well. At that moment I knew that my job was to:
☑️ verify whether the redirects were implemented (I had a gut feeling they weren't)
☑️ spot the changes made to H1s, Page Titles, and web content that may have contributed to the visibility drop
Let's go through these two steps together.
Website Migration Case Study –
Recovering Old URLs Without Website Backup
In a perfect world, an old version of the migrated website has its backup. This gives you direct access to whatever piece of information you need at a given moment. You just crawl the backup with Screaming Frog and that's it – you fish out the information you need to fix visibility issues.
In my case, however, I couldn't retrieve the complete list of URLs because there had been no website backup created before migration. This forced me to come up with an alternative solution.
Having neither the sitemap nor the old version of my Client's website to crawl, it was impossible for me to find all old URLs in one place. There was no other way for me to handle this issue than reaching out to various sources to extract the looked-for information. Later, I had to compile my findings. This is how I did it.
Finding Old URLs in Google Search Console
If you ever happen to be in this situation, I suggest you start from Google Search Console. This analytical tool may help you retrieve quite a number of old URLs.
Note: The graphic below isn't my Client's visibility report. I'm just putting the GSC screenshot to visualize the steps that need to be taken.
STEP 1 From the left sidebar, choose Performance.
Here's one super important thing: Since I was trying to extract the information a few months past the website migration, I had to set the date range when the old website was still up and running.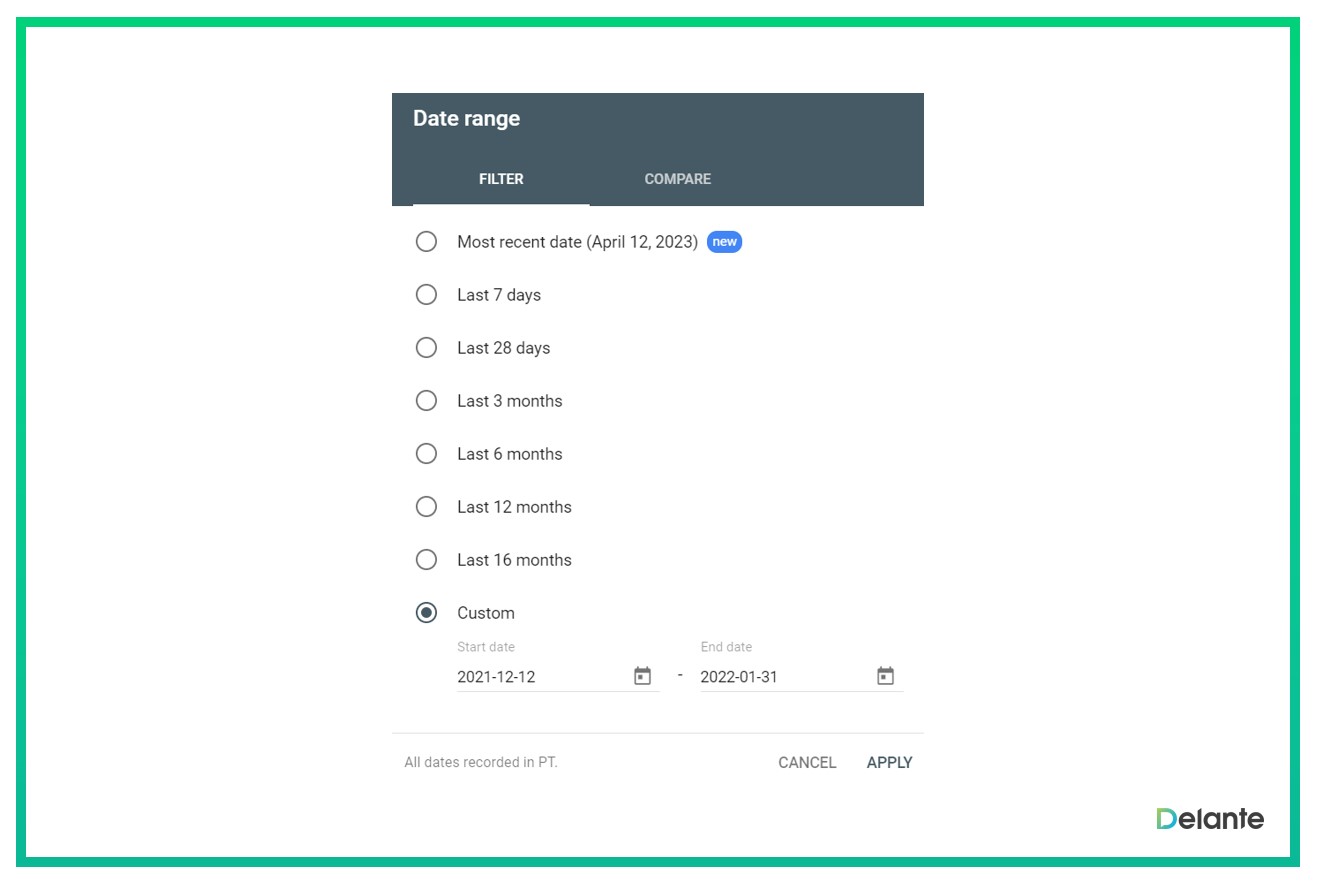 STEP 2 When you set the date range, click Pages.
This way you generate a list of URLs that were displayed on Google during a given period.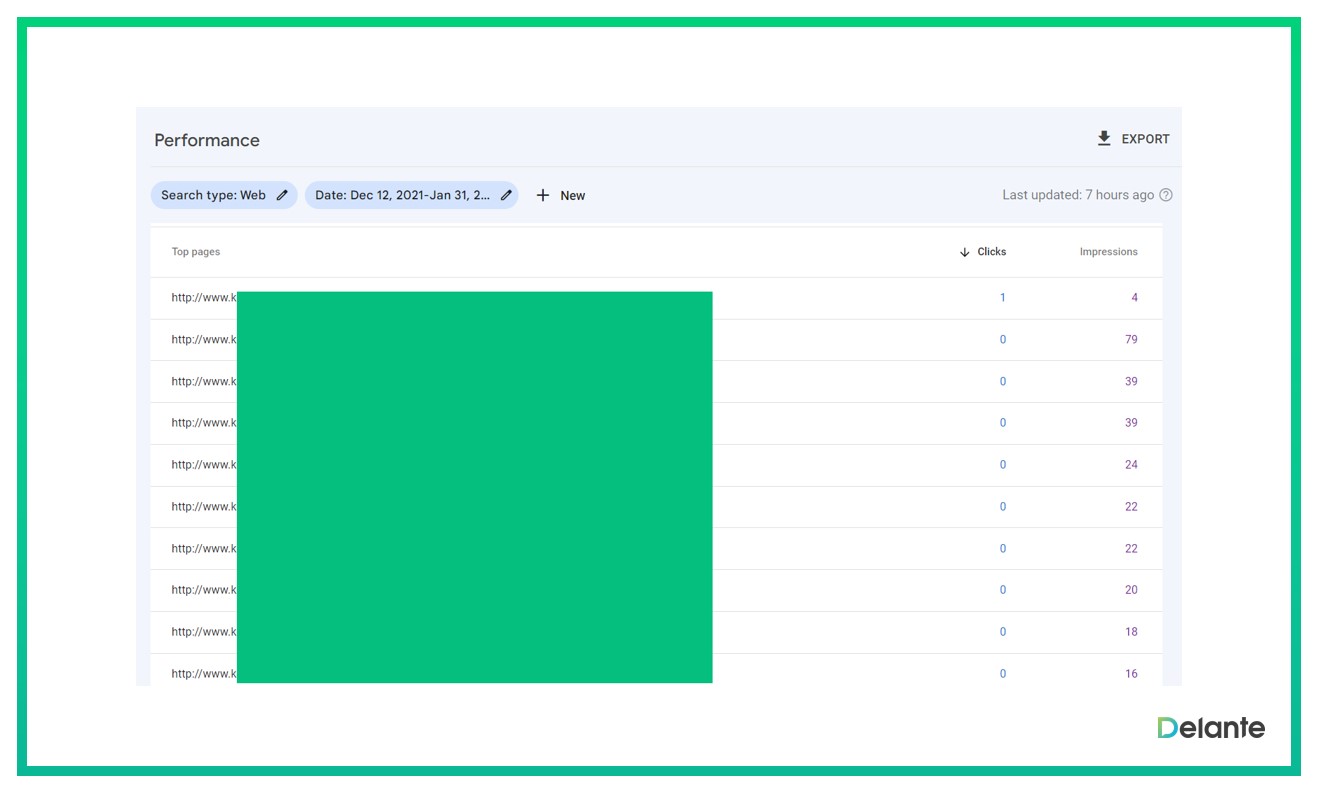 Knowing my Client's website's current URL structure, I could verify whether or not those elements had been changed. Already at this stage, I knew my gut feeling was right – the GSC report proved that the URL structures were different.
STEP 3 Export the list to Excel or as a .csv file. To do it, click the ⭳ Export button that you can find at the top right.
TIP In case the URL list exceeds 1,000 items, first you need to connect Google Search Console with Looker Studio (former Google Data Studio) in a custom report. This way, you'll be able to export the whole list.
In this simple way you should be able to extract a great part of old URLs provided the old website was indexed properly.
Do you remember when I told you GSC helps you retrieve quite a number of old URLs?
Unfortunately, it won't give you the full list. Having no access to sitemap/crawl, you won't be able to find all ULRs in one place. You need to explore other sources to make your list complete. That's why you may want to give a go at the following step, which is…
Finding Old URLs in Crawl Stats
Let me start with the good news: You don't need to change the tool – Google Search Console is all you need now.
The bad news, however, is that the method you're about to discover isn't always reliable. The thing is that the reports in Crawl stats aren't stored in GSC for an unlimited time. If you want to extract the information using the Crawl stats, you shouldn't drag your feet.
Assuming that the new and old URLs are still indexed in GSC, do the following:
STEP 1 From the left sidebar, choose Settings.
STEP 2 Open Crawl stat report.
STEP 3 After selecting the response code that fits the purpose, you will see which URLs generate it.
In short, each row in your report has an URL with a corresponding response code:
200 – OK
301/302/30x – redirection
404 – no page
50x – server errors
and so on, and so forth
This gives you a general understanding of what Google bots see when crawling each URL. It's pretty useful doing so simply because Screaming Frog finds information available only on your site, whereas Google bots may go to your website from other sources (e.g. external linking).
When clicking on OK, for example, you get a list of URLs that respond with code 200 while being crawled by Google bots.
STEP 4 Having the old and new URL structure, you can simply take a look at the list to see which addresses have changed.
In case your list still looks as if it misses a few items, do the following:
Finding Old URLs in Google Cache
Another place you may try looking for old URLs is by going through the stored copies of the website in a cache. This way you can access the last version of the website before it was migrated.
The thing is, however, this method can give you the information you're looking for unless you do this too late. In other words, if you are unlucky, the cache will be no longer there. Still, I suggest giving this method a go. This is how you can do this:
STEP 1 Type cache:your_old_website_ULR into the address bar.
STEP 2 Press the right mouse button and choose Inspect from the menu.
STEP 3 This way you call out a source code where you can look for old URLs.
You can do this by, for example, checking the internal linking structure: main page – second-level pages.
Using these three methods you can find your old website URLs. I suggest you paste your findings into Excel as this will help you in a second.
Now, it's time to verify whether the 301 redirects have been implemented correctly.
Website Migration Case Study –
How to Check If 301 Redirects Are Set
At this stage, you have got the old URLs arranged neatly in Excel. The next step is to check whether each link redirects visitors to its new location.
To do so, you need to crawl the URLs from your list.
STEP 1 Open Screaming Frog (you can use the free version).
STEP 2 From the top menu, click on Mode → List.
STEP 3 Later, click on the Upload button. Depending on whether you want to upload a file or just insert the URLs manually, choose From a File or Paste respectively.
Add the URLs to verify.
STEP 4 Initiate crawling by clicking on the Next button.
STEP 5 When the process finishes, which takes more or less a few minutes, Screaming Frog gives you information about the codes the verified URLs respond with.
✔️ If the migration process is successful, you see just 301 redirects.
❌ If the URLs haven't been changed during migration, you see 200 redirects.
However, in my Client's case – which I foresaw right at the start – Screaming Frog displayed mostly 404 error codes "Page Not Found". The only exceptions were a few "standard" pages, such as the home page, where the URL hadn't changed.
What's the next step? I suggest you create the redirection map + set the redirects.
How to Bulk Export New URLs
This one is pretty simple – this time you need to get the list of new URLs. I recommend extracting this information using Screaming Frog.
STEP 1 Enter your website URL into the box and click on Start.
STEP 2 Export the URLs to Excel or save them as a .csv file – whichever suits you best.
When you have all the necessary information, you may start creating a redirect map.
Website Migration Case Study – The Redirect Map
Generally speaking, creating the redirect map consists of 3 steps:
Gather old and new URLs (which we've just done)
Place the old URLs and new URLs side by side in one spreadsheet
Match each old URL with its corresponding URL
When I finally created the redirect map for my Client, I moved on to the next stage, which was…
Website Migration Case Study –
Comparing Page Titles, H1s & Web Content
Google Search Console reports showed me that the pages that made it to the top 10 in SERP dropped drastically after the migration. To discover the reason for the horrible plummet, I had to compare Page Titles, H1s, and web content published on the new version of my Client's website.
In other words, I had to verify whether the changes made to those fundamental web elements could have caused the drop. I don't want to sound like a broken record but I need to emphasize the importance of a website backup once again. If it had been done, it would have been way easier and quicker for me (or for any other fellow SEO) to identify the differences – I could have just used Screaming Frog to crawl the website backup and localize the changes.
Having no access to the website backup, I had to go through the process manually. This means that I had to use Excel to compare the information on old Page Titles, H1s, and web content with their new versions.
Once I identified the differences, which took me quite a while, I was finally able to, in a way, make the diagnosis – I decided to bring the old versions of the Page Titles / H1 back. To me, this was the proper way to restore the high positions in SERP.
Let me show you now…
How to Extract Data from the Old Website When You Don't Have a Backup
When you have an old website backup, finding the key information is pretty effortless. You just need to crawl the old website in Screaming Frog, provided that it's still available to access through a regular browser. This means that if your hosting still stores data about your old website, you can recover it through your CMS dashboard. In my case, however, this method wasn't available – I had to do this semi-manually.
The most convenient way I came up with was writing a script in Python. This reduced my workload and saved me time because I didn't have to check every single page manually to extract Page Titles, H1s, and content one by one.
The thing was that I had access to the old CMS dashboard, but I couldn't visit the website. At the same time, I couldn't access the old database. The system didn't allow me to bulk export the information I needed. That's why I had to make use of the script.
Sadly, I'm not able to give you a ready-made script simply because your website differs from my Client's website. The good news is that in the case of relatively small websites, this process can be handled manually – it shouldn't take you too much time and effort.
What I can tell you though is that the script needs to do the following job: go through the CMS and extract the defined information you need (e.g. Page Titles, H1s, and web content).
When you gather the data, it's time to do the same with the new website.
Sing up to our
Newsletter!
How to Extract Data from the New Website
This process is nothing but smooth sailing. You just have to open Screaming Frog,
STEP 1 Enter the new website URL and crawl it (described above).
STEP 2 Click either on the Page Titles or H1 tab to find the information you're looking for.
STEP 3 I suggest exporting the information to Excel or as a .csv file to make your job easier.
Okay, you've got all the information you currently need. Now, it's time to run a comparison.
How to Compare Gathered Data
Naturally, I wholeheartedly encourage you not to compare your findings manually as this may take you ages. Instead…
STEP 1 Open Excel.
STEP 2 Create 3 tabs: Summary, Old, and New.
STEP 3 First, paste the data about your old website into the Old spreadsheet.
STEP 4 Do the same with the information about the new website, pasting it into the New spreadsheet.
STEP 5 In the Summary spreadsheet, place the old and new corresponding URLs side by side.
Okay, everything is set. It's time to compare the data.
STEP 6 Now the most interesting part comes into play. Use the =IF function to compare Page Titles, H1s, and content.
For the homepage Page Title, the formula may look like this: =IF(Old!B2=New!B2,"✅","❌") – see the above screenshot for reference. Although the pattern is universal, make sure the names of the cells and spreadsheets are correct.
In my case, the comparison revealed that web content and H1s hadn't been changed, unlike Page Titles. Discovering this information, I had to make a call about which old Page Titles to restore.
What helped me make the right choice?
Website Migration Case Study –
When Restoring Old Page Titles & Headings Makes Sense
Good for me, this wasn't hard to decide. I brought back all the titles from the pages that had made it to the top 10 before the migration. Luckily, I didn't have to do this manually because I knew a clever way to automate this process.
Depending on the CMS you use, you may import the information in 4 ways:
from a .csv file
through API
by working with the database
write a script (that's your last resort)
That's it. You've just restored the old website elements and implemented them into your new website.
I did my job. I localized and fixed my Client's problem with visibility. However, I felt there was still room for improvement.
Therefore, I started optimizing the new Client's website for search engines. Why did I do that? I believed that some adjustments could significantly enhance the website's visibility and drive even more traffic than before the migration.
Carrying on with
Website Optimization
When I finally managed to get the Client's website out of a tight spot, I could have focused on doing regular search engine optimization to restore the lost visibility. Actually, I've been doing this till today.
First, I handled improving meta tags which – to me – looked a bit too basic. Meta tags are responsible for telling search engines and visitors about your website and its content. Trust me, you want the meta tags to be used properly because this way you increase your chances of getting your website displayed in the appropriate results. Meta tags also help your website look better in the SERP, which impacts CTR.
Secondly, and what's pretty crucial here, my Client's website – which is an online store – has plenty of category pages. I've been putting hard work into distinguishing them via meta tags. Google bots don't like duplicate elements and that is why I'm making sure that category pages are distinct.
Thirdly, Delante's content team has been working on crafting informative and relevant articles for my Client. This way we can increase the density of target keywords, thus improving the Client's website visibility in SERP. In case you'd like to learn all the benefits of a well-devised content strategy, you can find them all listed in the Content Plan.
Website Migration Case Study –
Results
Once all issues with website migration were resolved, I managed to reverse the negative trend impressively fast. It took a month and a half not only to stop the decrease but also to let my Client notice some nice visibility growth.
I started working on restoring my Client's website visibility at the end of June. The above-described rescue process was taking place between July and August.
As you can see on the graph below, the visibility has been growing steadily. The SEO process devised for the Client has been delivering the desired results till the day I wrote this website migration case study.
Currently, the visibility metric is a few times higher than it was before the migration.
Website Migration Case Study –
Summary
Like moving house, migrating your website is a very demanding process. You need to take care of plenty of things to steer clear of the far-reaching and awfully harmful consequences that both processes can lead to.
First, you absolutely need to let everybody know where your new address is. In the same way, the search engine must be notified about the move. Therefore, you absolutely must set the 301 redirects. If you fail to do so, instead of your amazing offer, your visitors will get the "Page Not Found" message.
Secondly, remember to create a website backup. This can be your lifesaver in case of unexpected problems, such as a significant drop in visibility. While advanced SEO tools can help restore some data, certain information may be lost permanently. The chances for this tragic scenario to happen grow with every day that passes after the migration. Besides, some information isn't easy to retrieve. Sometimes you may need to ask a professional for help, which may not necessarily be a low-priced service.
Before concluding, I have one final piece of advice for you. If you believe that migrating your website will provide better opportunities to reach new audiences or streamline your online business operations, don't hesitate to do so.
However, before you take any action, it's essential to consult with an SEO specialist. They can guide you through the complex process of website migration and help minimize any risks. With a customized SEO migration plan in place, you can be confident your website won't lose a single prospect.
Do you need help with carrying out the website migration? Let us know and we will make sure the transition is smooth and beneficial for your business!