How To Check Your Keyword Ranking?
If you want to get the best results for your website, you need to know the proper ways to optimize your SEO and the current trends to maximize traffic. How to check your keywords ranking is important because it opens up many possibilities and strategies that you need to consider when trying to boost your search ranking results! With this guide, you will learn many new tips and tricks to getting your site optimized fast!
Table of contents:
You Should Know Why To Track Keyword Ranks
Keyword ranking check programs and tools are essential for businesses and creative entrepreneurs looking for a boost to their online performance. Keyword choice is one of the most crucial aspects of your online content and you need to know the best practices available in order to start strong.
With proper keywords and proper keyword density, you will be able to optimize your content and reach the audience on the first pages of Google. But apart from choosing the right keywords, you'll need to monitor their performance.
Do Keyword Ranks Matter?
Monitoring the performance of your content and its position for the chosen keywords is crucial to check the effectiveness of your website. Keyword position is based on a ranking from 1-100 with 1 being the best: in effect, this means that your keyword is on the first page and the first result after a search. With this in mind, the higher rank the better!
By reaching the top of SERPs you can increase the number of organic traffic on a particular page. In simple words – higher ranks for specific keywords will increase the chance of the targeted audience reaching your website and eventually converting on it.
Remember: The more competitive the keyword the harder it is to get to the top of Google's first page. Usually, using long tail, detailed keywords will allow you to reach the first position and get to the users with more specified needs that your page will help them with. Learn more about long tail SEO: Long Tail SEO What Is It And How Does It Work?
So How Do I Track Keyword Ranks?
Using the tools available for website creators, you can reliably and effectively track your keyword usage and optimization. In fact, this should be one of the first steps in content creation.
There are many tools one can use in order to track keywords ranks, so the first step is to identify the best one for you. By choosing a great tool, or even more than just one, you can have a comprehensive insight into your content's performance.
SEMrush is a fantastic, all-in-one tool for improving your content's online visibility and improving the strategy of your keyword usage. SEMrush provides a comprehensive rundown of your website, keywords, competitor keywords, and more all with a simple registration process.
Providing feedback and a wide set of variables, SEMrush will allow you to take multiple factors into account when it comes to your own SEO and your competition strategies. So, how to check you keywords ranking with SEMrush?
Start by creating an account with SEMrush and navigate to your desktop.
Once you're in, you will see a variety of tools available for your use. To start checking your site's keyword ranks enter the domain in the search bar at the top of the website.
Then, find the Organic Research part and go to Top Organic Keywords:
When you go deeper into the details, SEMrush will provide you with an analysis of the keywords your website is being displayed at, how does it change over time and what ranks you currently have.
With instant rank checking, on-demand checks, automatic SERP checking, a variety of reports, the ability to track your competition, and unlimited keywords and projects, SERProbot is a fantastic resource for anyone looking to improve their site's performance.
Being able to optimize your content based on the changes in keywords ranks and checking how Google is matching phrases with your content is the best way to use this tool. Best of all? SERProbot has a free trial, so there's no reason not to give it a try!
First thing's first! You need to make an account with SERProbot. By doing so, you'll be able to unlock your own profile that will save your projects and allow you to search their site.
This is the dashboard screen. From here, you can click the red +New Project button to begin.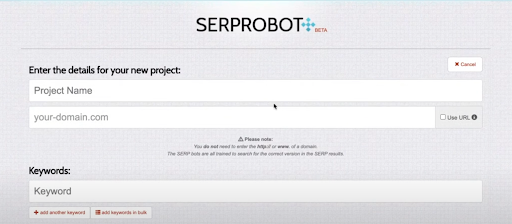 After naming the new project and entering your site information, you can begin tracking specific keywords and analyze them.
Note: Remember to add keywords you optimized your content for to the SerpRobot project right after you publish it. This way you make sure you see all history of the particular keyword ranks and react accurately!
Here's an example of how SERProbot delivers keyword insights:
Another leader in the keyword strategy space, Ahrefs is a world-class analysis tool for reviewing keywords, their position, and the content and backlinks of websites. In addition to these, Ahrefs can also be utilized to observe what the competition is doing and how best to use that knowledge to your advantage. It is very easy to start working on, so here's a quick guide!
As with the other options, Ahrefs is a paid service with a trial, meaning that you will have to start by making an account.
Once your account is made, the way to explore your site's keyword positions is pretty much similar to this in SEMrush. Start by typing in your domain address in the search bar:
Then click on the Organic Keywords in the overview that will be displayed in your dashboard.
This way you will get to the full report on the organic keywords that your website is showing on the Google search results pages, followed by its ranks, keyword volume, PCR metrics, etc.
You can even switch to different Google language versions (as you know that different market equals different SEO strategies, hence different keywords :))
By entering a domain to immediately check for Google rankings, this tool will allow you to find the direction organic traffic flows, creating the SEO-relevant keywords you need.
Start by entering the domain of the site you want to analyze, or your own site to see the metrics.
Hit 'Check' and see the results populate in the section below where you can see the position of the site, it's ranking, volume, country, and more!
Google's search console is an extremely potent tool that will let you measure site traffic, search performance, troubleshoot, and more!
First of all, you must have a Google account and sign in. Then you will be welcomed with this screen, where you can put in your domain in order to analyze their data.
When you have your domain integrated with GSC, check the menu on the left side and hit Search Results.
Then, you can check each URL address within your domain and see what keywords lead users to your page and whether they match with those you optimized URLs for. To check this, add a new filter (click on "+NEW), choose Page -> Exact URL, and copy-paste your page's URL.
In the report that Google Search Console will provide you with, you want to focus on the average position metrics, but the number of impressions and clicks will be helpful to evaluate your content optimization as well!
Moz is a marketing application that is extremely valuable to optimize keywords' SEO rankings. Being a transparent, simple tool, Moz provides comprehensive keyword searching and analysis at your fingertips!
As with most other tools, you will need to create an account for Moz before you can use it.
Once created, Moz will allow you to begin searching keywords on exact pages, root domains, and sub-domains. To check your website's keyword ranks find the Keyword Research category in the menu on the left. Then, choose Site Overview and Keyword Rankings.
After you provide Moz with the domain address you will be able to analyze all website's keywords and their ranks:
Keyword Ranking is Vital
Keyword analysis and monitoring your keyword rankings are incredibly important as they can help your website increase its performance. With the tools above, anyone can immediately get a great breakdown of their content's performance, see where they are succeeding and where they may need revisiting.
Checking your keyword rankings will allow you to excel in the online space and better optimize your website. Good luck!