In the online world, we leave data both as users and recipients, it's a side effect of our surfing the web and everyone does it. As owners of businesses, service companies, online stores and content publishers, we want to use this data to help us understand the behavior of users and customers. Moreover, we want to make the website more useful, extend the time spent on it, increase the conversion rate, and reduce the bounce rate. As we're a company which efficiently handle SEM campaigns, we want to increase not only their effectiveness but also the number of conversions of telephone calls, queries and orders. At the same time, we aim to decrease CPA and increase ROAS. So, how can we do it? If until now you have been only using Google Analytics, drawing all the conclusions and making key decisions in the company based only on this tool, we must warn you - this may be insufficient. Meet the revolutionary service, which combines advanced marketing tools and which had its world debut on July 24, 2018. Its effectiveness is confirmed by the world's most valuable brands. Meet Google Marketing Platform.
Google Marketing Platform
Your services will be more efficient together. Combine them.
After starting your cooperation with Delante, as part of the Google Performance Ads service, you will also have Google Marketing Platform implemented. This service is essential if you want to achieve even more satisfying results. We aim to promote the tool in a way that makes the latest solutions, which increase the effectiveness of the campaign, available for all companies, especially those small and medium-sized.
11 reasons why you should implement Google Marketing Platform
1. Making use of the latest Google tools at work
Choosing Google Marketing Platform guarantees using the latest Google solutions for data analysis, processing and reporting. You get access to such advanced marketing tools as Google Ads or Search Ads 360. We also use Google Tag Manager while implementing changes on the website and, additionally, we install Google Optimize script that enables carrying out A / B testing of landing pages even if you don't have any programming knowledge.
2. Comprehensive deployment of Google Tag Manager
Make hay while the sun shines. Now you can deploy scripts and updates in the blink of an eye with Google Tag Manager. Due to the latest Google solutions, we are finally able to implement fast and flexible Internet marketing. Thanks to a fully secure and fast interface, not only our company but also you can enter the data, in most cases without the need to get a programming expert help. We comprehensively implement Google Tag Manager from top to bottom as part of the Google Marketing Platform service. In many cases, when we have FTP access or administrative access to the CMS system, we can once implement the necessary codes without any extra charges. The intensity of further works within GTM varies and depends on individual needs of the industry and customers. Generally, within GTM we deploy all necessary scripts and tools, we set up micro and macro conversions and improve the conversion counting efficiency.
3. Comprehensive deployment of Google Analytics
If you want to make right decisions and hit the jackpot, you need trustworthy data. Google Analytics is a free analytics tool that gives you huge opportunities in the field of web analytics. Taking full advantage of its functions requires setting it up correctly first. The configuration concerns all account, service and view settings. In order to get extensive information about paid and free website traffic we need to configure correct session counting and implement Google Search Console and Google Ads tools. As it turns out, there simply can't be any errors because the data is imported, processed, visualized and correct in a 1:1 ratio. Moreover, Google Analytics account is also protected against spam and dangerous robot activities. After the configuration and testing of the account is completed, we can move on to setting up micro and macro conversion goals, which is a vital element of surveys in Google Analytics. Here, previously deployed Google Tag Manager comes in handy and can be used to set majority of our goals directly on the website. We integrate, configure and define goals of Google Analytics from scratch, additionally, we inform our customers after completing the work. However, there are unique cases and specific CMSs, which require a programming expert help. Then, our task is to monitor the activities and support the whole process until it's successfully completed.
4. Creating Google Data Studio
Google Data Studio makes it possible to enter a higher level of reporting. Our customers have an account and access to the platform, thanks to which browsing performance indicators is a piece of cake. On only one page of the report we present data in a clear and simple way tailored to individual preferences of customers.
5. Creating a Google Ads account
Advanced Performance Marketing tool is accessible for small and medium enterprises. Google Ads (formerly known as Google AdWords) is a real landmark among PPC advertising platforms and it's the only platform that permits advertising on Google. We will increase the visibility of your company and reach customers in the right place at the right time. You don't pay unless someone clicks on your ad and it gives you a unique opportunity to get more customers. The campaigns are not limited by any minimum budget, so you can get going with almost any amount. Don't hesitate, ask for an assessment of the minimum reasonable budget to start the promotion.
6. Integrating with Delante Platform
Delante Platform is a set of tools deployed on the Google Ads customer account as part of the implementation of Google Marketing Platform. Delante Platform includes audit tools, scripts monitoring if the customer's website works properly and other tools that aim to eliminate errors and budget waste as well as to ensure correct operation of services.
7. Creating a remarketing
Use Google Ads to reach customers who have already visited your site. Together with implementing Google Marketing Platform, we also add plenty of personalized groups of recipients to your account and we continually expand these lists during the contract period. Depending on sources of visits and behaviors on the site, recipients lists help us personalize messages. Some of the recipient lists are not instantly used and we leave them for special occasions such as holidays or festivals. As part of the service, we also configure Customer Match recipients.
8. Configuring connections (Call Tracking)
Set up Call Tracking and get useful data about incoming calls. We have good news for you, this configuration is carried out for free as part of the deployment of Google Marketing Platform. After we successfully configure the service you will receive comprehensive reports on the connection time, number of calls, and the number beginnings (identifying calls from the landlines). The data about calls is treated as a conversion.
9. Implementing Google Merchant Center
A high-conversion source of traffic that is perfect for an online store. An account in Google Merchant Center is implemented as part of the service. The service strives for correct processing of the product file and sending data to Google Ads to conduct a product campaign. Further Google Merchant Center functions that we configure are advanced rules for the data file and consumer reviews.
10. Implementing Yandex Metrica
Now you can monitor user behavior by going through individual sessions in Session Replay Yandex Metrica. Yandex, by the Russian giant, is a competitive tool for Google and gives you additional possibilities in the field of data analytics. We implement it for selected customers. So how can you get it? All you need to do is ask us to configure and turn on this supplementary service.
11. Site Audit
The higher the quality of the landing page, the higher the quality score. To be able to effectively achieve the company's goals, we not only audit the website to check whether it's useful on mobile devices but we also carry out optimization tests. After implementing Google Marketing Platform, each customer receives an application report from us.
Manage all marketing activities in one place
Thanks to Google Marketing Platform, you can manage all services in one place. Among the offered tools you can find:
Google Ads

Search Ads 360

Display & Video 360

Google Analytics

Google Analytics 360

Data studio

Optimize

Optimize 360

Surveys

Surveys 360

Tag Manager

Tag Manager 360
Google Marketing Platform enables:
Marketing activities that are faster and more thorough. You can devote more time to strategic activities because everyday processes are automated. Trends and ad patterns are automatically adjusted by built-in intelligence.
Controlling your investments efficiently. You can easily check which marketing strategies work well and make conscious decisions that boost your performance. It's not necessary to give up on high quality ads or user convenience.
Understanding your recipients better. You can get a better picture of your customers due to the access to integrated data. After combining the data with various Google information concerning different devices and user intentions, you will be able to identify the most valuable recipients.
Exchanging information between different teams. If you collect documents and reports in one place, all your employees will have access to recipients' data, multimedia and findings. Moreover, they will be able to share their remarks and ideas or optimize marketing activities (https://support.google.com/analytics/answer/9031231?hl=pl).
[caption id="attachment_7413" align="aligncenter" width="750"]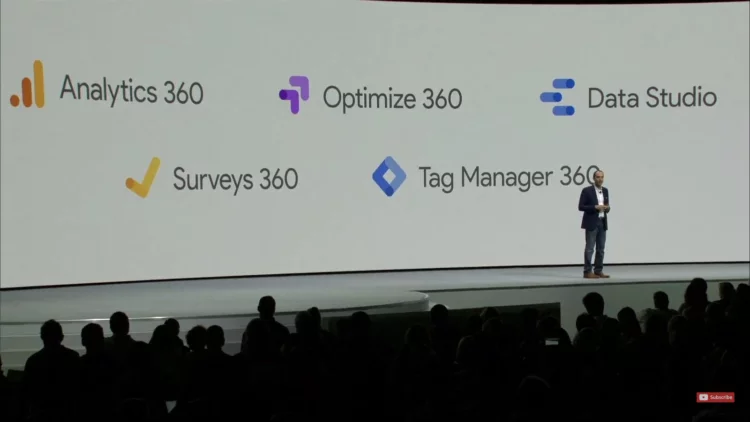 Launching Google Marketing Platform during Google Marketing Live Conference[/caption]
Detailed phases of Google Marketing Platform implementation:
Now, it's time for you to find out what we do as part of the deployment process.
Creating a Google Tag Manager account
Service configuration

Sending guidelines for a programmer (optional in the case of popular CMS implementation of GTM on the customer's site)

Implementing the most important scripts and / or structuring the code on the website

Instructions for implementing the data layer

Implementing e-commerce tracking

Implementing Google Ads conversion

Implementing dynamic remarketing

Implementing remarketing

Audit and implementation if you already have the service
Creating a Google Analytics account
Configuring the account correctly

Turning on and configuring the most important functions used

Excluding any activities of known bots

Analyzing e-commerce

Adding many extensive lists of recipients for remarketing

Site tracking

Configuring goals for micro conversions

Configuring goals for macro conversions

Optional configuration: Yandex Metrica

Audit and implementation if you already have the service
Creating Google Data Studio
Integrating with Google Ads

Integrating with Google Analytics

Preparing a custom report
Creating a Google Ads account
Giving authority to the team and employees

Configuring the account according to Google Ads standards

Configuring tagging

Attribution modeling

Payments and settlements settings

Adding negative keyword lists

Synchronizing with Analytics

Synchronizing with Search Console

Synchronizing with Merchant Center

Synchronizing with Google My Business

Importing recipients from Analytics to Google Ads

Importing conversions from Analytics to Google Ads

Setting alerts and notifications

Optional: configuring connections on the website

Creating a structure for an account or restructuring an existing account

If you already have an account, auditing and implementing the necessary changes
Implementation together with Google Merchant Center additionally includes:
Creating and configuring an account

Verifying the domain

Preparing or uploading product data

Complementing information about the company

Supplementing contact details BOK

Supplementing delivery information

Advanced account settings for the needs of campaigns

Integrating with Google Ads
After we complete the deployment process you will receive an extensive report informing about the work carried out.
If we want to make use of Google Performance Ads, it's only possible after implementing Google Marketing Platform. If you want to be successful at using e-commerce potential and effectively optimizing your campaigns, you need data that is accurately collected, visualized and processed. By synchronizing all the tools you can get extra benefits such as the optimal use of Google AI and the use of advanced mechanisms of machine learning, which increasingly turn out to be much better than manual account optimization. In addition, we don't have to pay so much attention to maintaining the account and the time saved can be used for other activities. Hopefully, the new product, Google Marketing Platform, will become a standard in Polish e-commerce in the upcoming years.